2019 Homes to be posted soon! Experience Granbury, where Texas history lives. Stories unfold as you walk each elegant and historically relevant home for this holiday tradition. Browse below the
2018 Granbury – A Candlelight Tour.
VIEW HOMES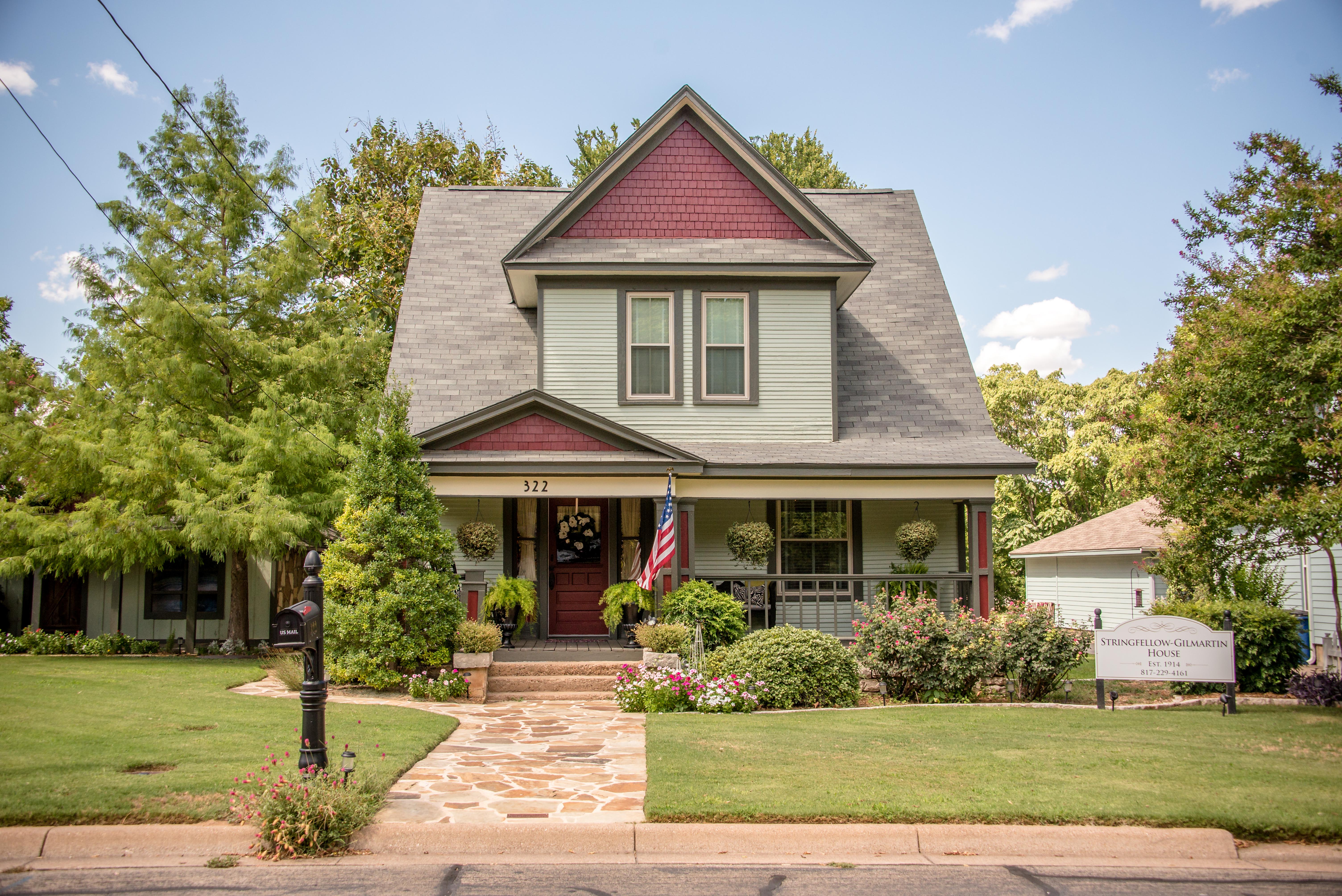 Stringfellow-Gilmartin Home
322 West Bridge St.
Built for Will Stringfellow and his family around 1914 with materials left over from Confederate Major John A. Formwalt's first home.
Mrs. Gilmartin was fond of pink. The exterior of the house, as well as much of the interior of the house pink. She always loved to have her house on the Candlelight Tour. But young girls from town would come clean and decorate before the tour! She loved Christmas and left her tree up year round. I've heard 2 different stories about the tree. Some say it was aluminum and some say it was made of feathers.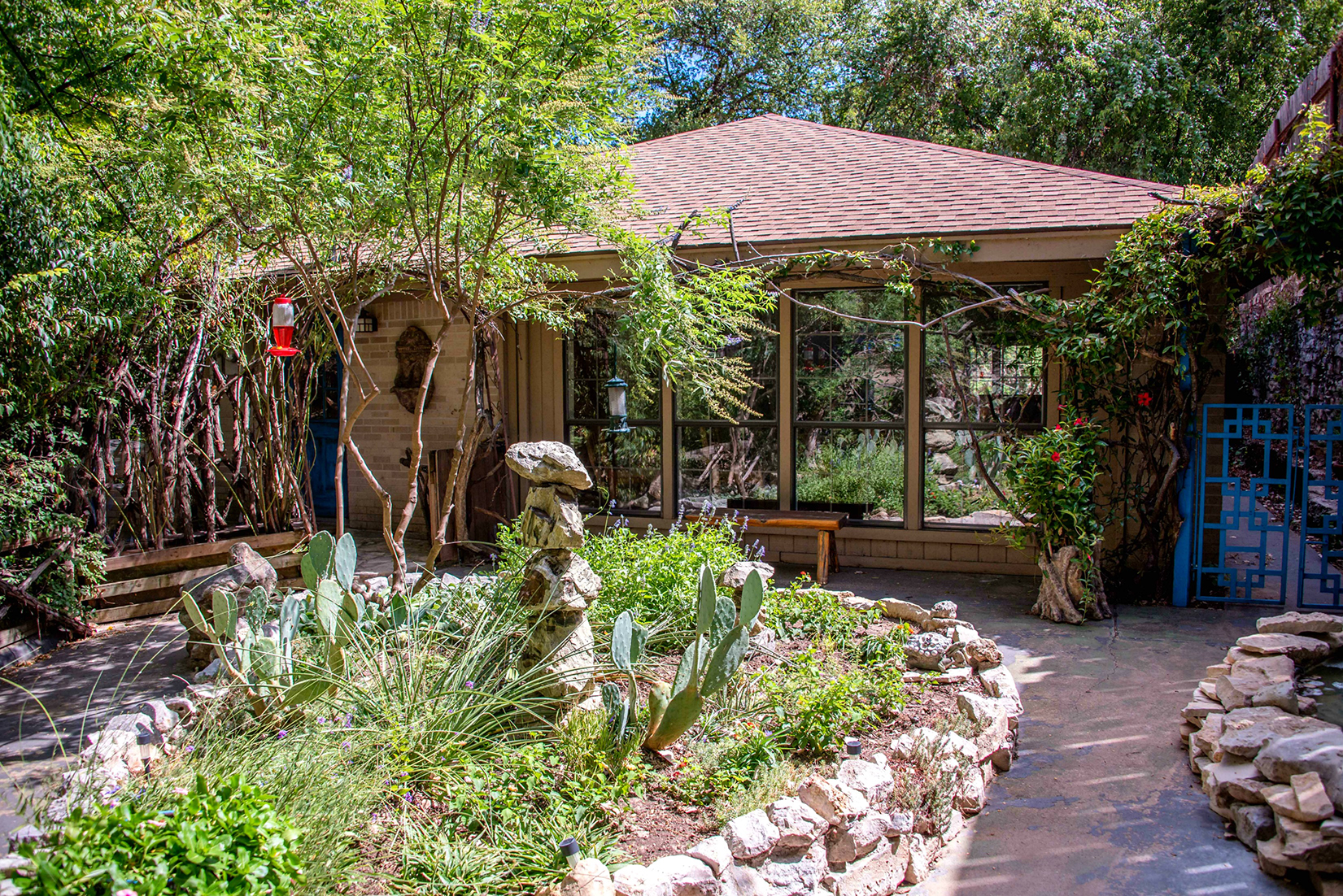 404 Torrey St.
The house, a 1977 classic tract house design, is complete with vaulted ceilings, skylights and Saltillo tiles. The enclosure of the original garage, and the subsequent opening of that space into the entry hall have been the only major changes to the house structures, but the gardens and grounds are ever-evolving. Decks and other surfaces have been added to allow for the creation of Groeschel's ferrocement faux bois sculpture and natural driftwood structures.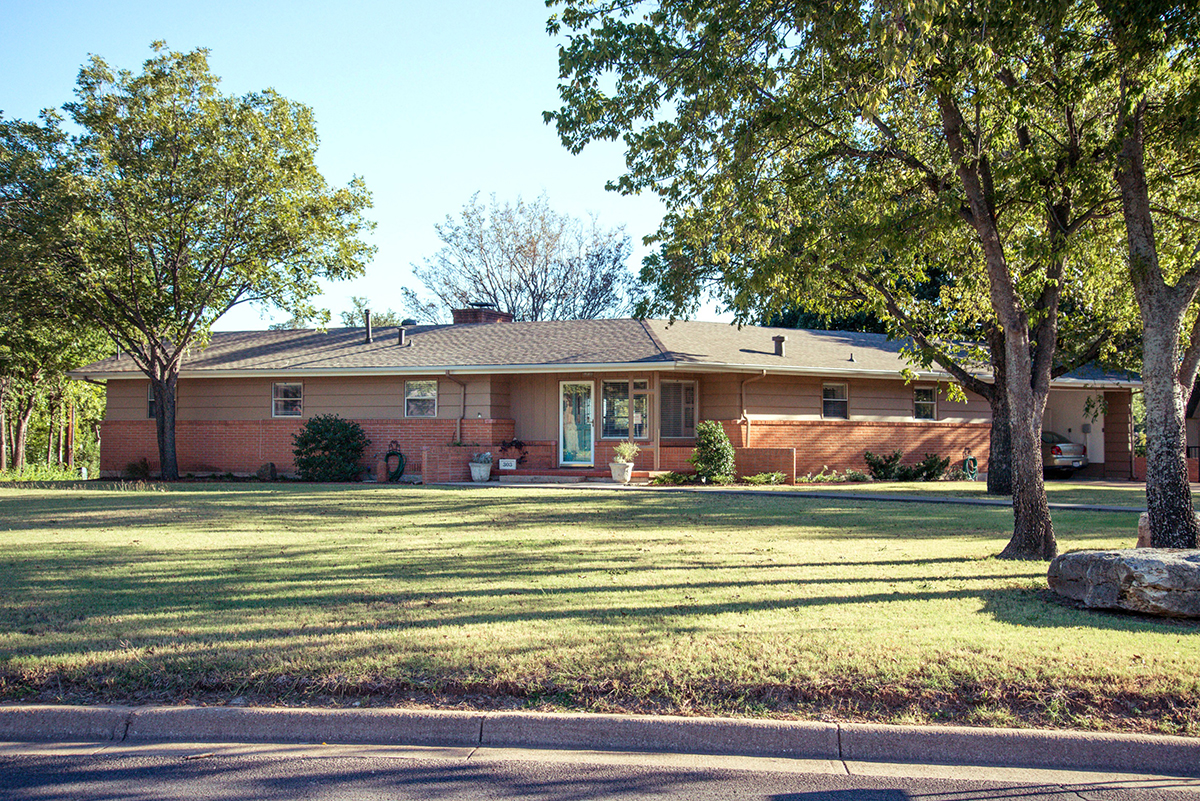 303 W. Doyle
Ranch houses were first built in California during the 1920s to 30s, where they evolved from Spanish Colonial architecture, Frank Lloyd Wright's Prairie-style houses, and the casual Craftsman bungalow. Two Stone Manor's interior reflects the latter movement of the Mid-Century modern style with open floor plan, vaulted ceiling, and large galley kitchen. The stacked sandstone fireplace wall is also a signature of the 1960s architecture and is original to Two Stone Manor.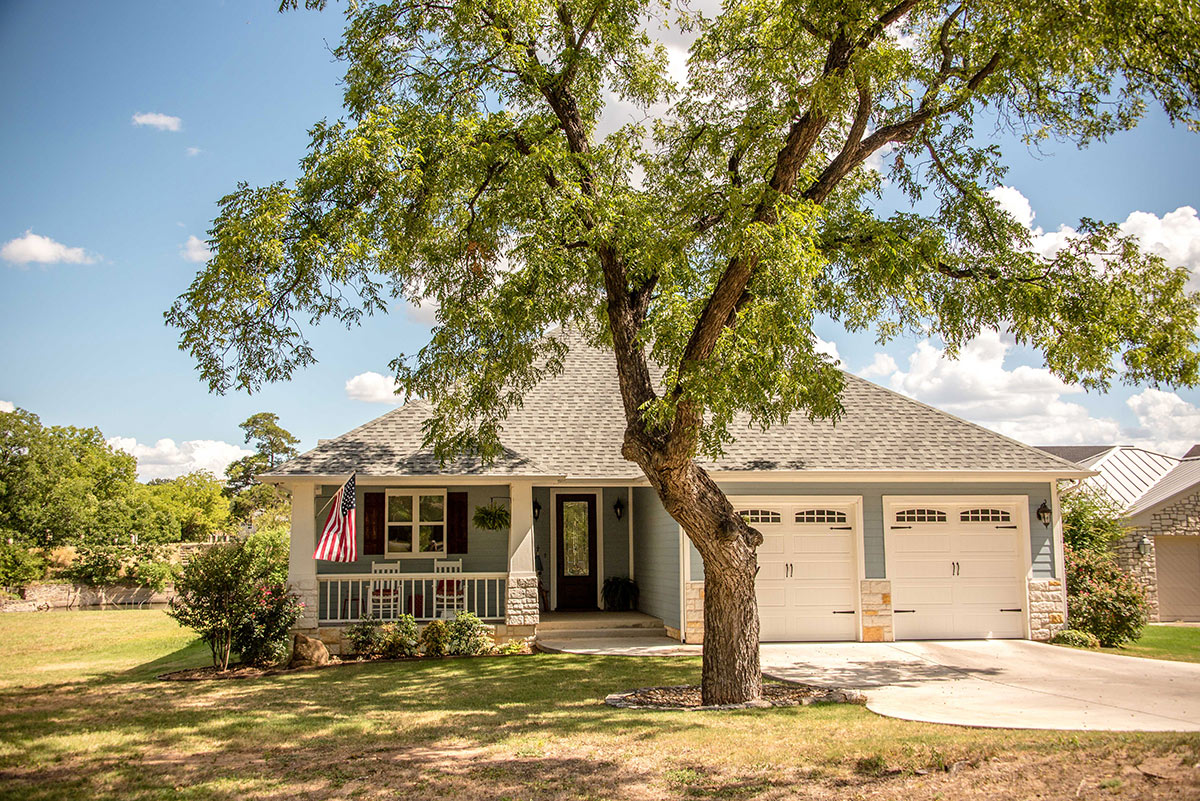 1 Lambert Court
This charming little cottage is the perfect retirement home. Perfect little details full the house for the owners who were ready to downsize from their large bed and breakfast. Antiques are tucked away in the house and the Christmas decor is as cute as the home on the canal. The fireplace is a central focus for the living room and kitchen.
Although not an "historical" home the neighborhood is built on the edge of the historic district and you will find that historical feel throughout the home.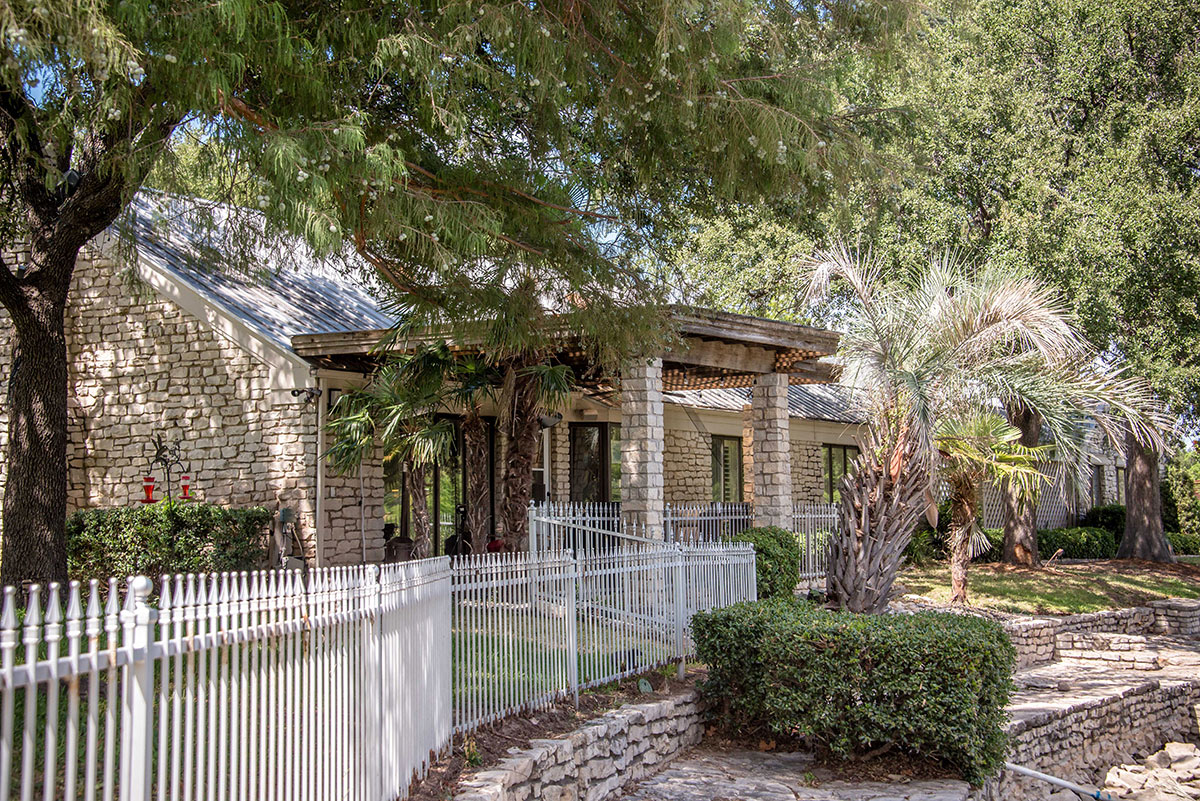 2 Lambert Court
Although 2 Lambert Court is not in the designated historical district, it is considered by some to be one of the original homes that are situated in the Lambert Branch of Lake Granbury. We believe that the original small lake house was first built in the 1960's.
As far back as 1975, county records show Joe Nutt as a property owner of this land. He is probably one of the first owners of this property here in Granbury, and we know from history that the Nutt family had property both around the city as well as on the square.
2 Lambert Court historically has been an awesome property that remains a jewel of a property in the downtown area. The property owners have all entertained and utilized the property for fun, festivals, family and friends. City wide events, weddings, a Newcomers event and many other family reunions, swim parties, church gatherings, slumber parties and business planning sessions have been held at 2 Lambert Ct.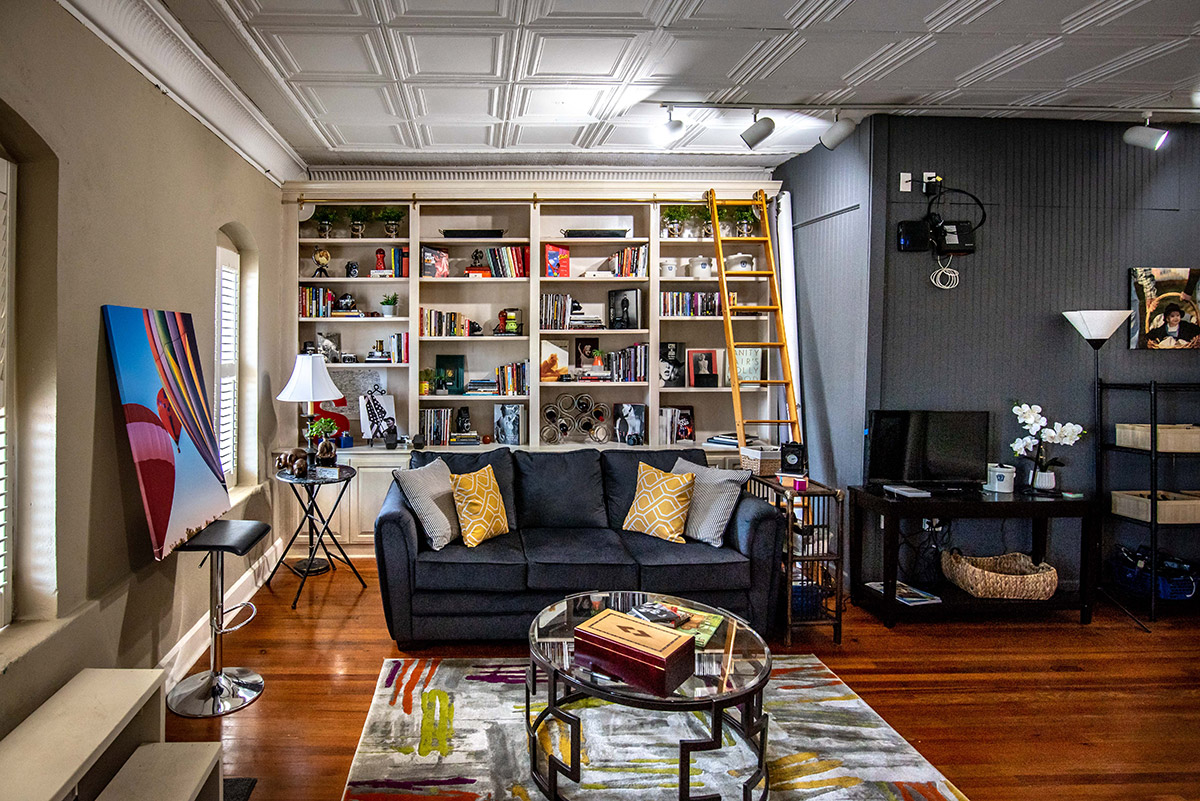 116 N Houston St
The original building at 116 N Houston was a 1 story until the early 1900's. After a fire's rebuild, the second story was added.
Downstairs was the home of "Fats" Hughes Variety store for many years. The upstairs was a very high end antique store named The Hermitage. Mr Sanders a long time European traveler and antique collector considered charging people just to enter his store, but thankfully did not come to fruition.
Linda Powell and her late husband previously owned the building. At the time of Dr Lynn Powell's death in 1991, Linda moved her business Almost Heaven to the bottom level. Architect Brian Gaffin was hired to remodel the upstairs into living quarters which was finished in 1992. Linda lived here until her retirement in 2012.
A few years later Linda Powell Preston sold the building to artist Cynthia James whose boutique and gallery is downstairs. With additional renovations to the upstairs, two separate living areas were created forming the apartments/bed & breakfasts.
1. Bridge Street History Center
319 E. Bridge St.
A Greek Revival Plantation Style home built for David Lee Nutt in 1879. The home currently houses a museum dedicated to preserving the history of early residents of Granbury and Hood County.
2. Langdon Center, Concert Hall (Nativity display)
300 E. Bridge St.
This one room clapboard-style church built in 1889 was originally the First Christian Church of Granbury. During events hours, be sure to see the nativity display, Away in a Manager. Includes 1000+ nativity scenes from 87 countries.
3. Historic Hood County Courthouse
133 E. Pearl St.
A three-story limestone structure constructed in 1890-1891. The Seth Thomas clock was installed upon completion in 1891. Courthouse will be open for tours Saturday only from 12:00 p.m. – 5:00 p.m.
4. Historic Granbury Opera House
116 E. pearl St.
Built in 1886, this Italianate theatre has evolved from a small town entertainment center to a beautifully renovated theatre venue. It completes the historic town square with first-rate shows, concerts and civic events. The lobby will be available to be seen from 10:00 a.m. to 12:30 p.m.. Purchase your tickets to see A Christmas Carol at the box office within the lobby.
5. Jefferson Newton Nutt Doll House
421 E. Bridge St.
Built in 1885 and operated thru 1978; for 93 years served as the only jail of Hood County. The original cells are still in place, and the downstairs is filed with local artifacts and historical documents.
6. Historic Old Jail Museum
206 N. Crockett St.
Built in 1885 and operated thru 1978; for 93 years served as the only jail of Hood County. The original cells are still in place, and downstairs is filled with local artifacts and historical documents.
7. Historic Granbury Light Plant
E. Ewell & N. Brazos St.
Built in 1903 and generated electricity for the city of Granbury from 1904-1955.
8. Historic Granbury Railroad Depot
109 E. Ewell St
Built in 1914, this structure is representative of early 20th century rural Texas train stations. Telegrapher Jim Sargent from Fort Worth will be demonstrating how messages were sent to other train stations.
9. First Presbyterian Church
309 W. Bridge St.
A modified Gothic-style structure built in 1896 adorned with beautiful stained glass windows and the original church bell that hangs in the steeple-topped tower.
10. Yeats-Duke Cabin
214 N. Crockett St
Built circa 1858 built by Austin Yeats for his family. The original log cabin (oldest preserved building in Granbury) is enclosed within the exterior structure. They feature artifacts from the 1800's and history on textiles from cotton to weaving. Also, they educate about the World War II sewing room that was here in Granbury.
11. Laroe Picnic Green
This little cottage, adjacent to Shanley Park, was recently remodeled by the Lake Granbury Area Beautification Council. The property is decorated each Christmas and is a popular spot to take family pictures.
12. Memorial Lane
561 N Travis St.
Memorial Lane is the location for 3 unique sites that join together to Remember and Honor all Heroes that have served as Firefighters, in the Military or in any Law Enforcement Agency. Past, Present, and Future are all Honored here!