This is a time when Texas hospitality is irrepressible and the gracious people of Granbury welcome visitors into their historic private residences for the 38th Annual Granbury A Candlelight Holiday Tour of Homes.
*Fri Dec 2nd – VIP Night 6:30-9:00
Sat Dec 3rd – 1:00-8:00
Sun Dec 4th – 1:00-5:00
*(limited amount of tickets) 
Please plan to pick up your ticket and program the day of the event. Will-Call opens 1 hour before event.
201 E. Pearl Street
Granbury, TX 76048
VIP Night –
$50
Friday, December 2nd | 6:30pm – 9pm
Light hors d'oeuvres, beer, wine, & champagne at each house. Ticket is good for the entire weekend of events. Pick up your wristband and book under the Plaza on Pearl Street (201 E. Pearl Street). Opens at 6pm to 8pm.
Early Bird General Admission –
$25 until Nov 15th, 2022
General Admission –
 $30
Saturday, December 3rd | 1pm – 8pm
Sunday, December 4th | 1pm – 5pm
Tickets for the tour on Saturday & Sunday are $30. Ticket sales & pick up for online sales will be under the Plaza on Pearl Street (201 E. Pearl Street). You'll also receive your wristband and program here.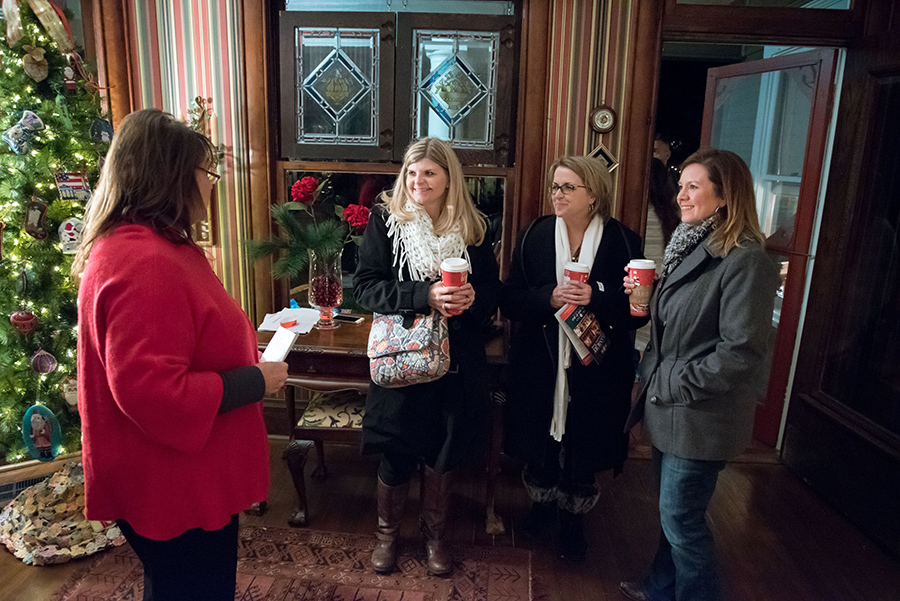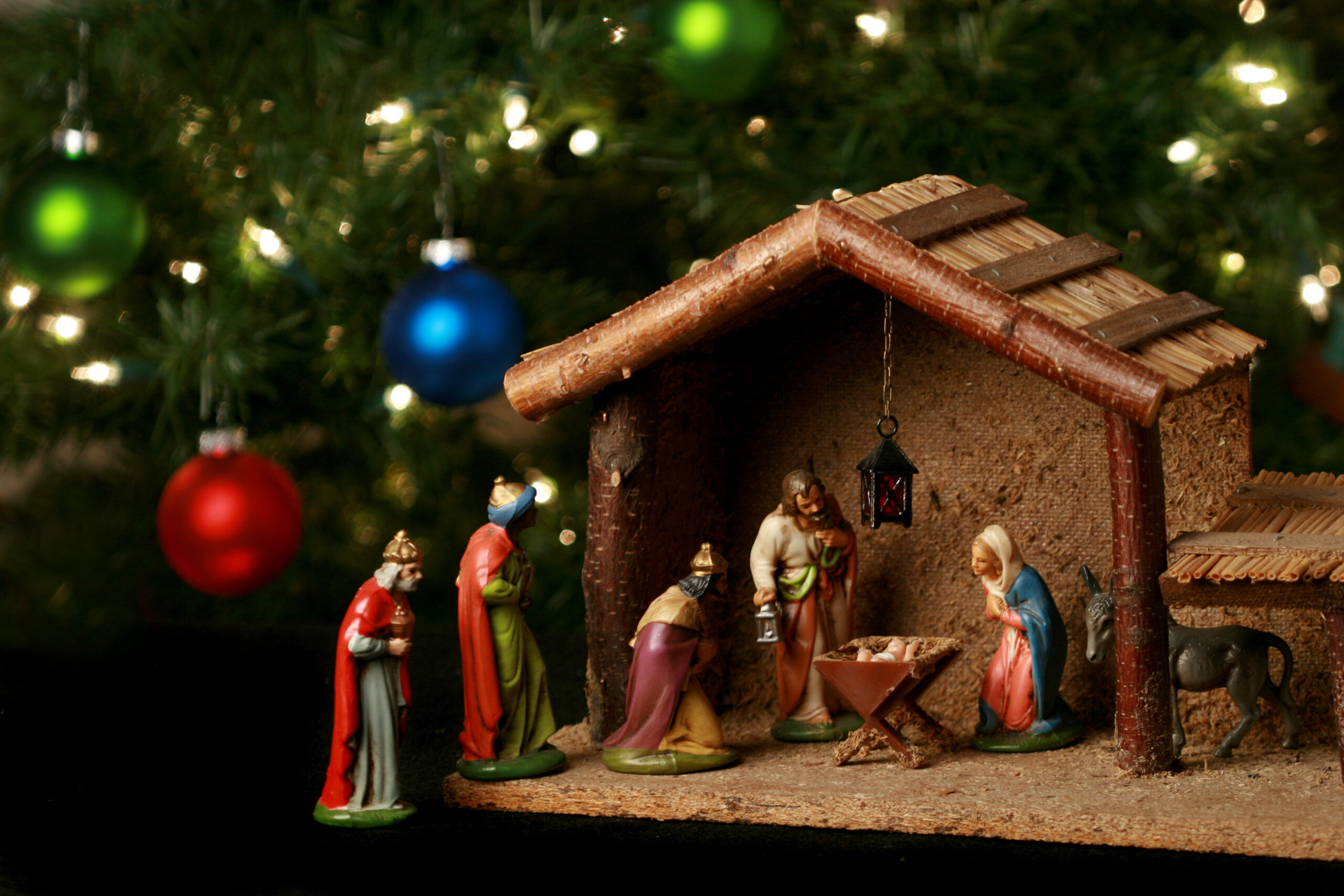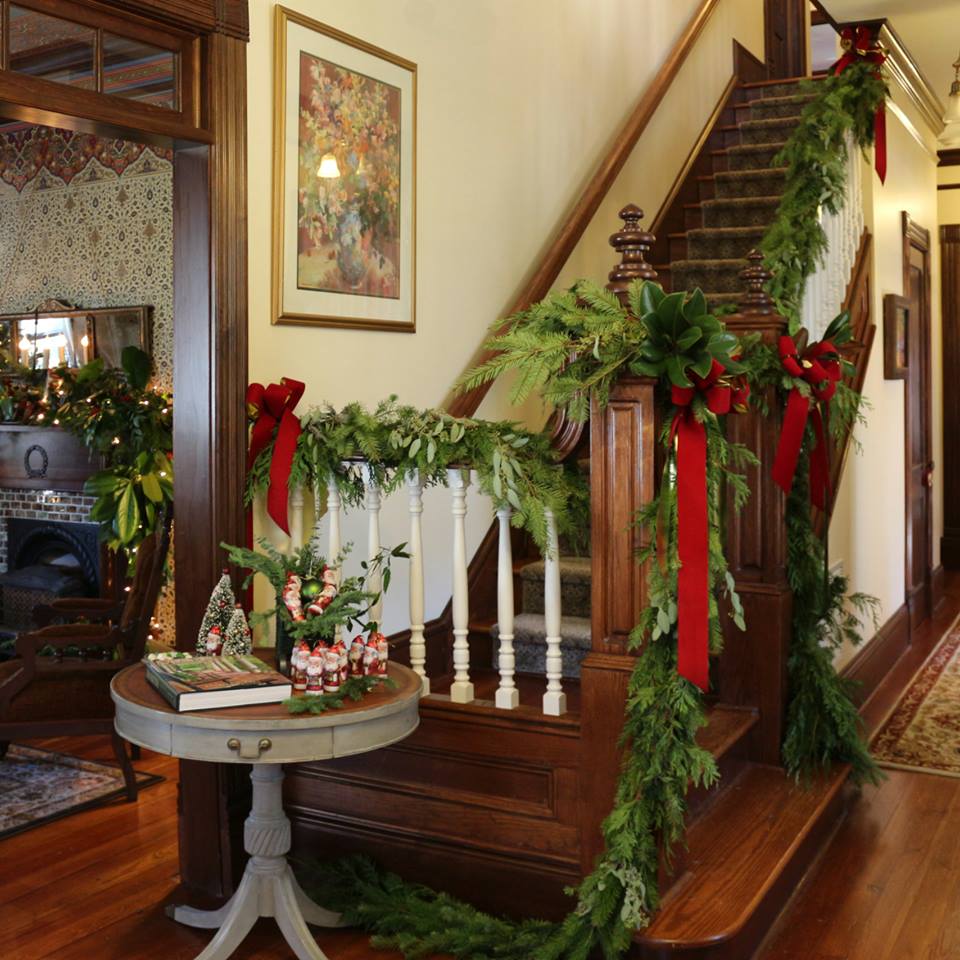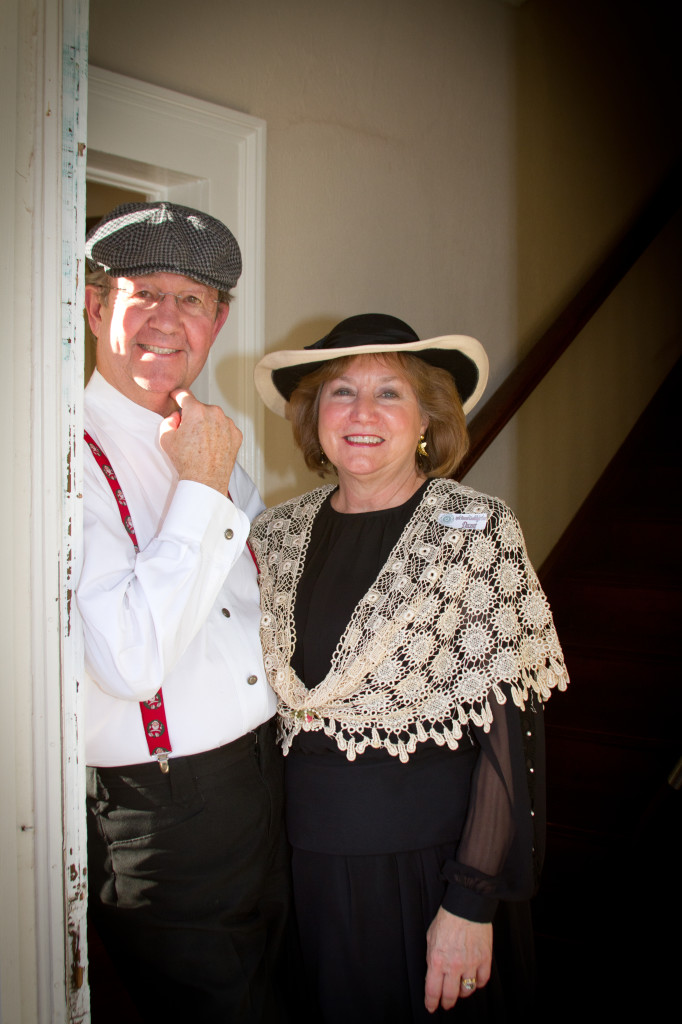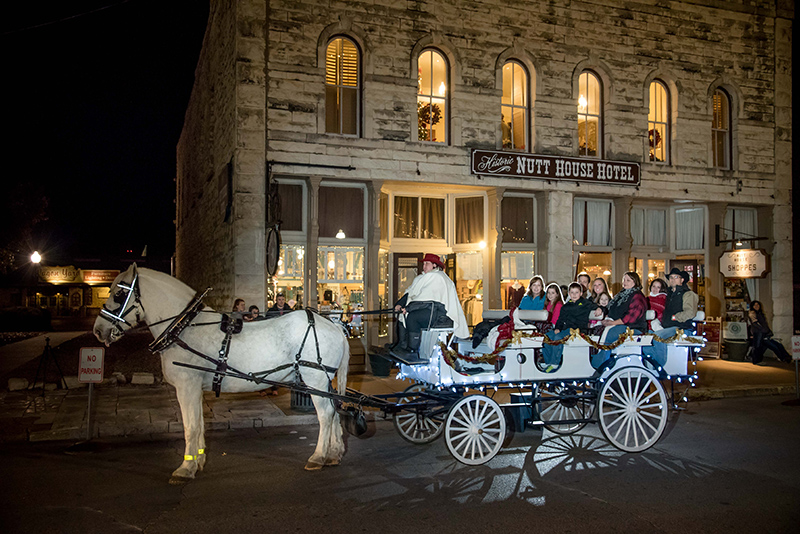 2022 – Musical Performances at 1st Presbyterian Church 
309 W. Bridge St.
Schedule for musical performances taking place in our sanctuary during the Candlelight Tour of Homes are as follows:
Friday, December 2nd
7:00  – 7:45 – Melody Bells
Saturday, December 3rd
1:00 – 1:45 p.m. – Granbury Civic Chorus
2:00 – 2:45 p.m. – JetBlacq – Rebecca & Frank Faiola  
3:00 – 3:45 p.m. – Madrigal Singers, Fort Worth Chorale of Schola Cantorum of Texas
4:00 – 4:45 p.m. – TBD
ALSO
The historic sanctuary will be open the following:
Friday 6-8:00 pm
Saturday  1-8:00 pm
Sunday 1-5:00 pm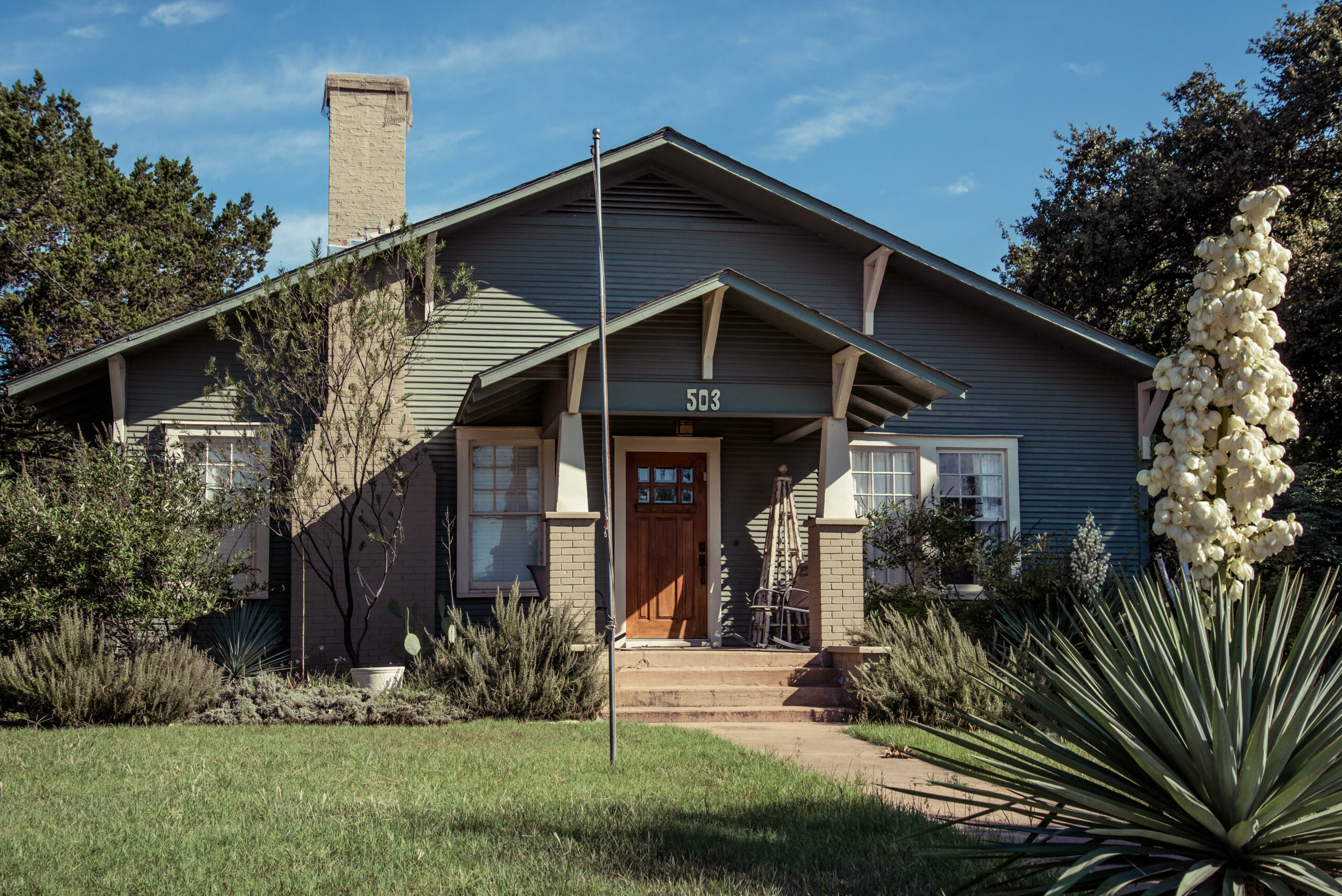 Pure Joy – The Sellars-Morris House at 503 E Bridge St was built in 1887. It is wonderfully preserved and a true embodiment of the craftsman style. This home features many additional historical features such as the back bar from the Andy Aston Saloon, the Granbury Bus Station Ticket booth, and an original carriage house.
Williams Thomas Sellars & Sarah Leticia Ingle Sellars built this house in 1887. They came to Granbury through Missouri where Mr. Sellars fought alongside his wife's brothers for the Confederacy. They had lived on various sites in Granbury (one of which was the Captain Morris House on East Pearl).
Their soon-to-be son-in-law, John Clyde Morris, bought the house from his wife's (Rosa Lee Sellars) father in 1900 when her mother died an untimely death. They lived another 68 years in this house and raised 2 children (John and Amelia) while operating their familybusiness known as "JR Morris and Son Hardware Company).
Our family has always been drawn to old houses — especially homes that carry the positive essence of their owners – and we feel that sharing this house with the Sellars, Morrises, Clemmons, and Prestons is PURE JOY.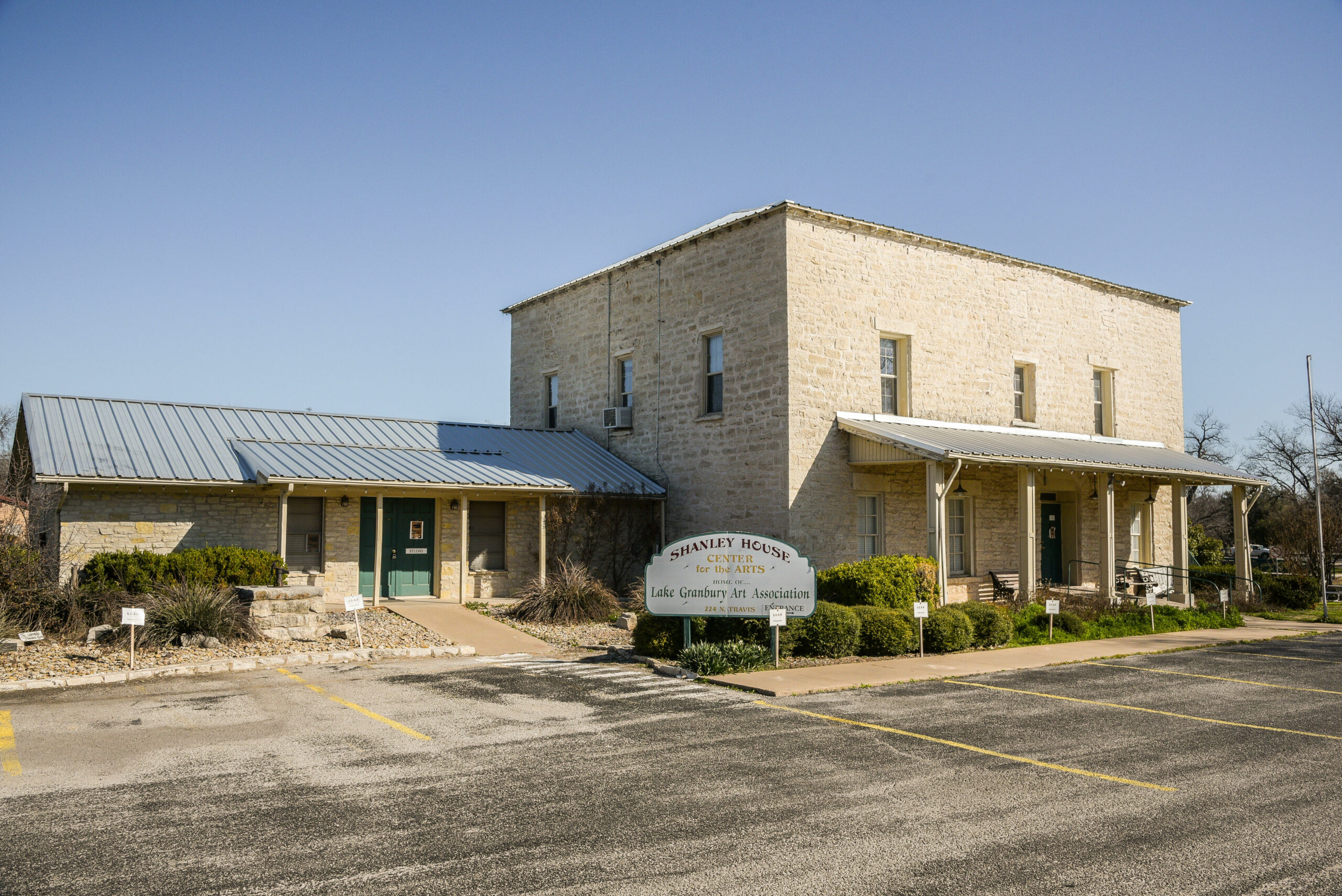 The Shanley House was estimated to have been built by 1886 and very possibly as early as the 1870's. It was originally constructed as a gristmill and was used for grinding various types of grains. Known as the Granite Mills, its original proprietor was J. N. Haney, the same Granbury citizen who built the Hood County Jail in 1885. 
By 1900, the building was sold to Michael H. Shanley, whose family owned the Shanley House for the next 76 years. Soon after the purchase of the building, Mr. Shanley transformed the mill building into a ground floor opera house, which presented both musical and theatrical productions. Mrs. Shanley, a talented musician, was often featured in many of the musical shows. Traveling acting troupes were also included in a great number of the performances.
The Shanley House, a frontier utilitarian work structure, was constructed of native Hood County Limestone. Before you enter the former mill, notice the stone arch that caps the front door. Each outside door has such a relieving arch to help hold the weight of the heavy stonework above the door. Also notice the supporting stone lintels above each of the original windows.
The Shanley family sold the Shanley House in 1976 to the Hood County Bicentennial Commission. With the help of many area residents, the Commission renovated the building. It is now home to the Lake Granbury Art Association.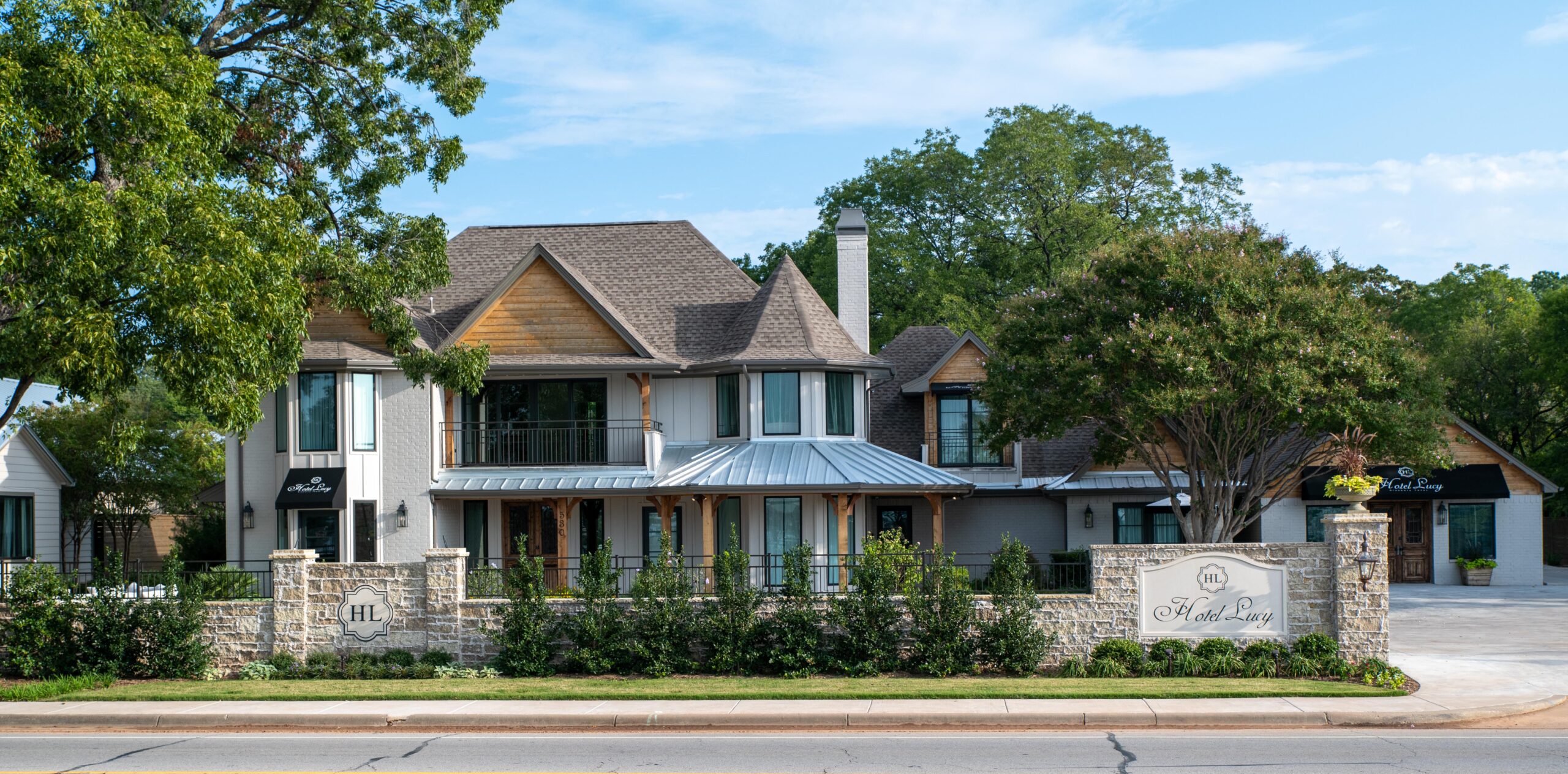 Hotel Lucy on Pearl is a luxurious adult-only boutique hotel in Granbury, Texas that is unlike any other lodging experience. Located within walking distance of the Historic Granbury Square, Hotel Lucy combines historic charm with modern luxury.
Hotel Lucy was established in September 2020 by Granbury Native, Vicki Nivens. Vicki's eye for design and love for details are present in every elaborate, perfectly curated suite at Hotel Lucy. On the tour, the Big Lucy chef-style kitchen, cozy bar space, and vibrant Vera Parker suite will be on display. Many may remember stopping by Vera Parker's fruit stand, which used to sit where Hotel Lucy is now, and the Vera Parker suite is a tribute to that memory. Step inside the fun and fabulous, Hotel Lucy!! 
Areas on Tour: Big Lucy Kitchen and Lounge, Vera Parker Suite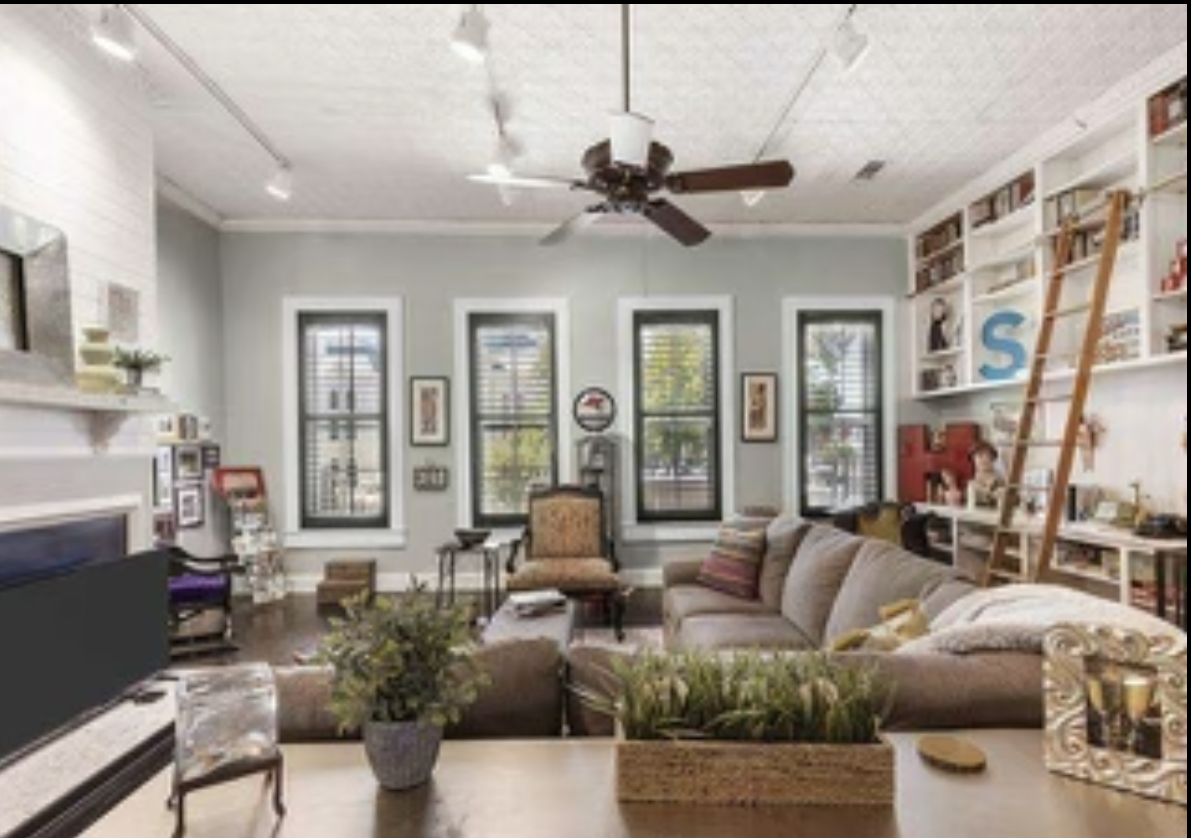 The original structure was erected around 1885 by builder James Farr and the property owner, B.M. Estes, a prominent attorney. Sold in 1888 to the Glenn Family.
Brothers Clark, Dan, John, and James Glenn housed their Grocery Store in the building. After a fire, in this building and the three to the west, contractors Elliott & Halsley made extensive repairs (1891), using heavy timbers clad in iron to support the brick veneer of the upper story, with its handsome Victorian styling.
Over the many years, various businesses have been located downstairs. It was very unusual for the business owners to reside above their business here on the Granbury Square.  
Upstairs was used as storage, more office space or left empty until the 1970's when restoration of the square's buildings began.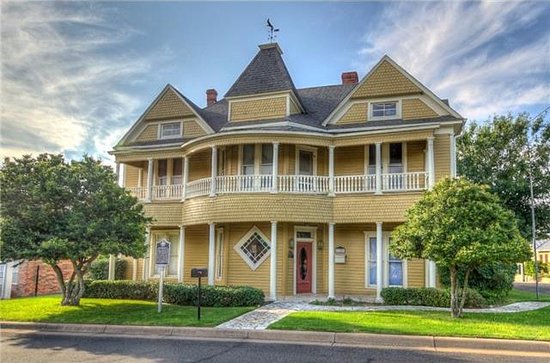 Built in 1875 for James Doyle, this High Style House with Queen Ann stylistic influence now serves as Captain's House On Lake Granbury…Guest Suites for visitors and tourists to Granbury.
The home is one of the few remaining large homes built in Granbury before 1900 that has not burned and then been rebuilt, had the front facade totally restyled, or been moved from its original site. The Captain's House is the only historic landmark home operating as a BnB on Lake Granbury. Eighty percent of the windows as well as the diamond shaped stained glass window are original to the home. The only structural changes made to the house have been the addition of a workshop, office, and parking areas. A few porches and balconies have been enclosed to allow for the addition of bathrooms, but the overall outline of the home remains the same. All the materials used in the additions have been complimentary to the era of the structure, some of them even being recycled off the home.
James Hogan Doyle was a decorated hero in the Civil War and moved to Granbury in 1870. James H. Doyle was Hood County's fourth treasurer and served as chairman on the Granbury School Board. He was also the original director of the First National Bank of Granbury. He co-owned the Baker-Doyle Building which is one of the oldest buildings on the Square. James Doyle was a charter member of the Granbury Masonic Lodge, founded in 1875, and was instrumental in getting the first bridge built across the Brazos River.
Stringfellow-Craddock-Gilmartin House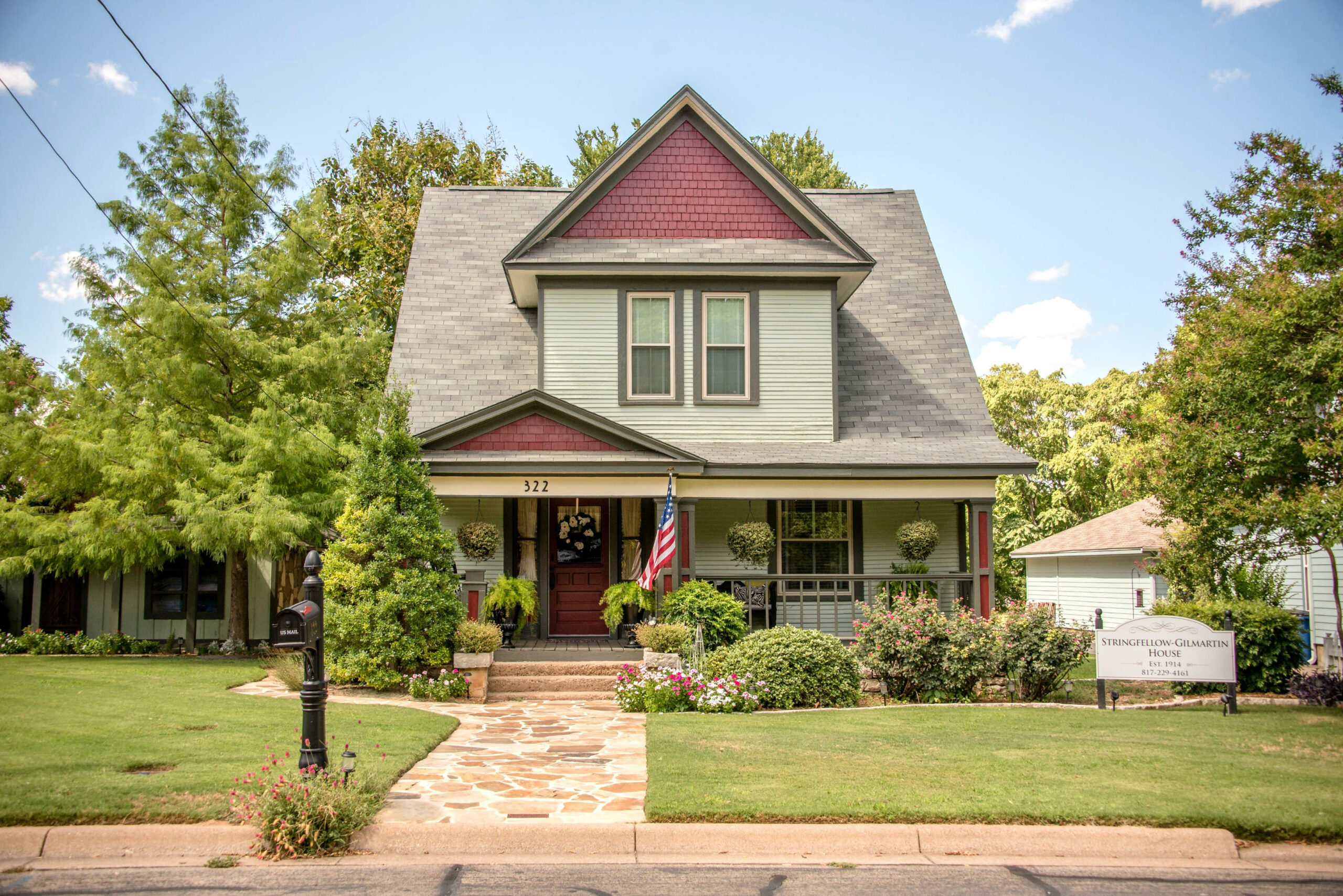 The Stringfellow-Craddock-Gilmartin house is a spectacular example of the vernacular farmhouse typical of Granbury's rural roots. This primitive farmhouse was built around 1916 for Will Stringfellow and his family for a cost of about $2,000. The Stringfellow home was built of lumber and other recycled materials from Confederate Major John A. Formwalt's first Granbury residence, which was located on the same site. The home still occupies a quarter-block and historically operated as a small farmstead. Here the Stringfellow family cultivated a large vegetable garden, nurtured fruit trees, raised a cow and stabled their horses and mules. The farmstead had a water well, a storm cellar, an outhouse and a carriage house, all built by Major Formwalt.
In 1995 the Stringfellow-Craddock-Gilmartin Farmhouse was purchased by the Historic Granbury Education Foundation in order to preserve this example of architecture and lifestyles in early rural Texas. Kirk and Christi McDonald restored the home in 2005 and during restoration efforts they uncovered a lost document discarded from the Hood County Courthouse in the 1970s.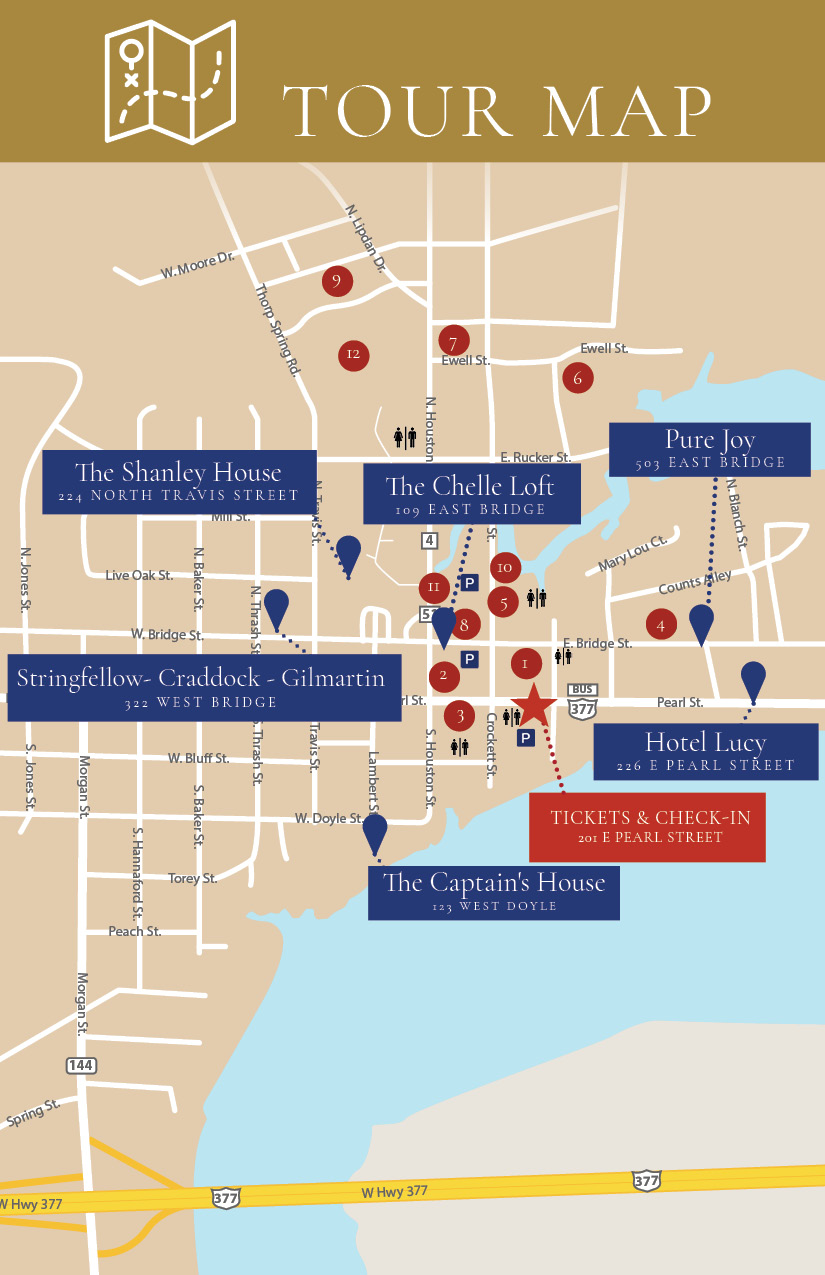 Frequently Asked Questions
Where is Granbury – A Candlelight Tour?
Many of the sites for Granbury – A Candlelight Tour are centered around the Granbury Square.  This is a self-guided tour to enjoy at your leisure.  While many of the homes and sites are located just off the Granbury Square, this tour does require a good amount of walking. A map of the homes and sites included on the 2019 tour are published on the website and in print before the event. Click here for the map.
——
Where is Will Call?
Granbury Square Plaza Pavilion
201 E Pearl St., Granbury, TX 76048
——
How do I stay informed on event changes or details?
Please "Like" us on Facebook and you will be updated on all information regarding the Candlelight Tour. Also, we will ensure that the website is updated with the most current information.
——
When do tickets go on sale?
Ticket reservation sales are now open.
——
Where is the closest ATM?
First National Bank of Granbury
101 E. Bridge St.
Granbury, TX 76048
——
What are the options for parking?
There are spaces available in the Granbury Square around the courthouse.
In addition…
Granbury City Hall  116 W Bridge St, Granbury, TX 76048
E. Pearl St. Parking– Just east of the square there is parking available on your right on E. Pearl St.
Remote Parking– This parking lot has 82 spaces available.  It is free to the public.  You will find it adjacent to Shanley Park. It is located on Rucker St., between Houston St. and Crockett St.
Overflow Parking – available across the street from the Granbury Convention Center adjacent to Hewlett Park on E. Pearl St.
——
Will there transportation between the homes?
You can drive your own vehicle to the homes, or there is a complimentary trolley that will pick up and drop off to all  homes.
——
Do I need tickets for the concerts at the Presbyterian Church?
No, all music concerts at Presbyterian church are free and open to public. 
Do I need tickets to tour the public buildings?
No, the 12 docent hosted public buildings free and open to the public. See a full list below:
1. Langdon Center, Concert Hall (Nativity display)
300 E. Bridge St.
This one room clapboard-style church built in 1889 was originally the First Christian Church of Granbury. During events hours, be sure to see the nativity display, Away in a Manager. Includes 1000+ nativity scenes from 87 countries.
2. Historic Hood County Courthouse
133 E. Pearl St.
A three-story limestone structure constructed in 1890-1891. The Seth Thomas clock was installed upon completion in 1891. Courthouse will be open for tours Saturday only from 12:00 p.m. – 5:00 p.m.
3. Historic Granbury Opera House
116 E. Pearl St.
Built in 1886, this Italianate theatre has evolved from a small town entertainment center to a beautifully renovated theatre venue. It completes the historic town square with first-rate shows, concerts and civic events. The lobby will be available to be seen from 10:00 a.m. to 12:30 p.m.. Purchase your tickets to see A Christmas Carol at the box office within the lobby.
4. Jefferson Newton Nutt Doll House
421 E. Bridge St.
Built in 1885 and operated thru 1978; for 93 years served as the only jail of Hood County. The original cells are still in place, and the downstairs is filed with local artifacts and historical documents.
5. Historic Old Jail Museum
206 N. Crockett St.
Built in 1885 and operated thru 1978; for 93 years served as the only jail of Hood County. The original cells are still in place, and downstairs is filled with local artifacts and historical documents.
6. Historic Granbury Light Plant
E. Ewell & N. Brazos St.
Built in 1903 and generated electricity for the city of Granbury from 1904-1955.
7. Historic Granbury Railroad Depot
109 E. Ewell St
Built in 1914, this structure is representative of early 20th century rural Texas train stations. Telegrapher Jim Sargent from Fort Worth will be demonstrating how messages were sent to other train stations.
309 W. Bridge St.
A modified Gothic-style structure built in 1896 adorned with beautiful stained glass windows and the original church bell that hangs in the steeple-topped tower.
9. Yeats-Duke Cabin
214 N. Crockett St Built circa 1858 built by Austin Yeats for his family. The original log cabin (oldest preserved building in Granbury) is enclosed within the exterior structure. They feature artifacts from the 1800's and history on textiles from cotton to weaving. Also, they educate about the World War II sewing room that was here in Granbury.
10. Laroe Picnic Green
This little cottage, adjacent to Shanley Park, was recently remodeled by the Lake Granbury Area Beautification Council. The property is decorated each Christmas and is a popular spot to take family pictures.
11. Memorial Lane
561 N Travis St.
Memorial Lane is the location for 3 unique sites that join together to Remember and Honor all Heroes that have served as Firefighters, in the Military or in any Law Enforcement Agency. Past, Present, and Future are all Honored here!
*All ticket sales are final.
**Granbury – A Candlelight Tour is rain or shine.
Please plan to pick up your ticket and program the day of the event. Will-Call opens 1 hour before event.
201 E. Pearl Street
Granbury, TX 76048