This is a time when Texas hospitality is irrepressible and the gracious people of Granbury welcome visitors into their historic private residences for the 37th Annual Granbury A Candlelight Holiday Tour of Homes.
*Fri Dec 3rd – VIP Night 6:30-9:00
Sat Dec 4th – 1:00-9:00
Sun Dec 5th – 1:00-5:00
*(limited amount of tickets) 
Please plan to pick up your ticket and program the day of the event. Will-Call opens 1 hour before event.
201 E. Pearl Street
Granbury, TX 76048
VIP Night –
$50
Friday, December 3rd | 6:30pm – 9pm
Light hors d'oeuvres, beer, wine, & champagne at each house. Ticket is good for the entire weekend of events. Pick up your wristband and book under the Plaza on Pearl Street (201 E. Pearl Street). Opens at 6pm to 8pm.
General Admission –
 $30
Saturday, December 4th | 1pm – 9pm
Sunday, December 5th | 1pm – 5pm
Tickets for the tour on Saturday & Sunday are $30. Ticket sales & pick up for online sales will be under the Plaza on Pearl Street (201 E. Pearl Street). You'll also receive your wristband and program here.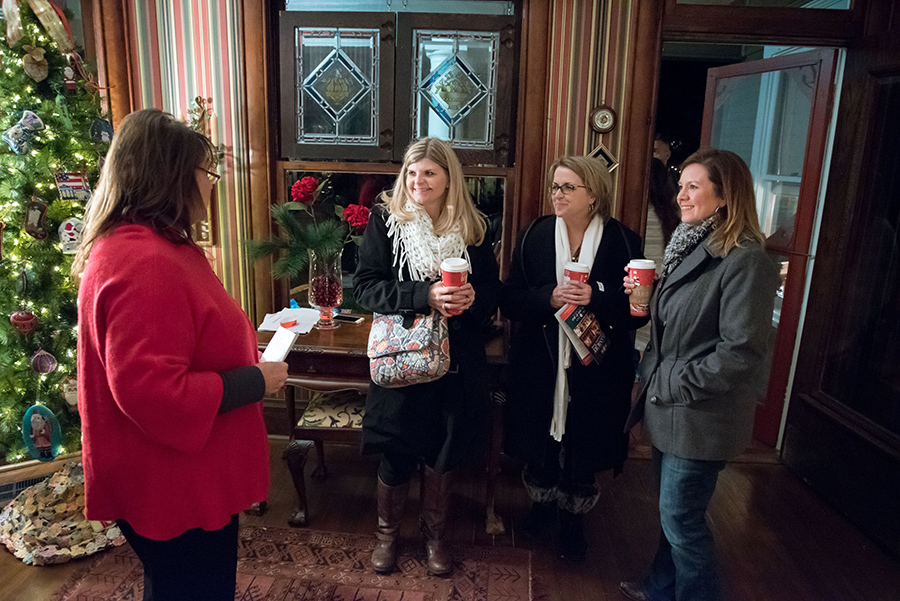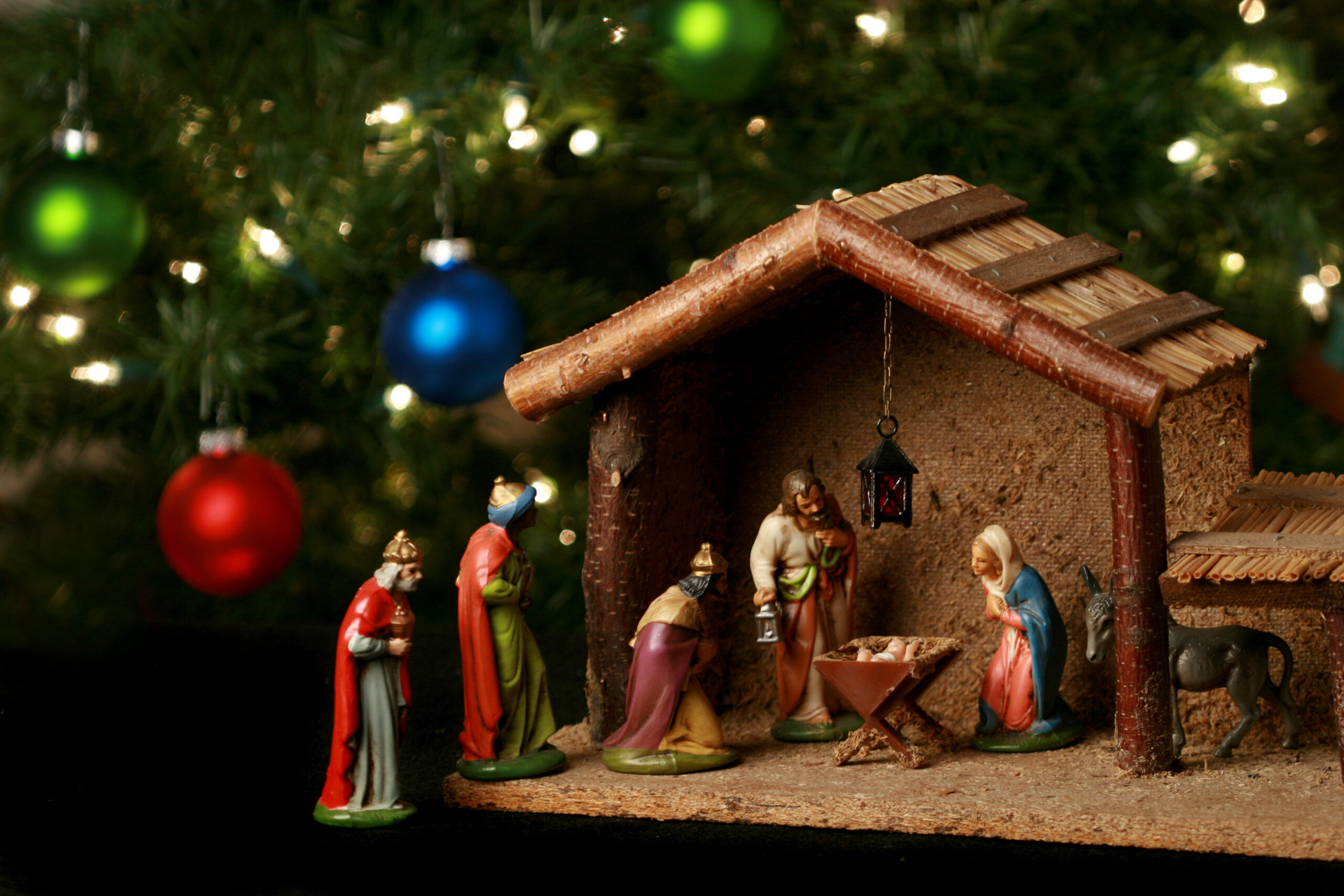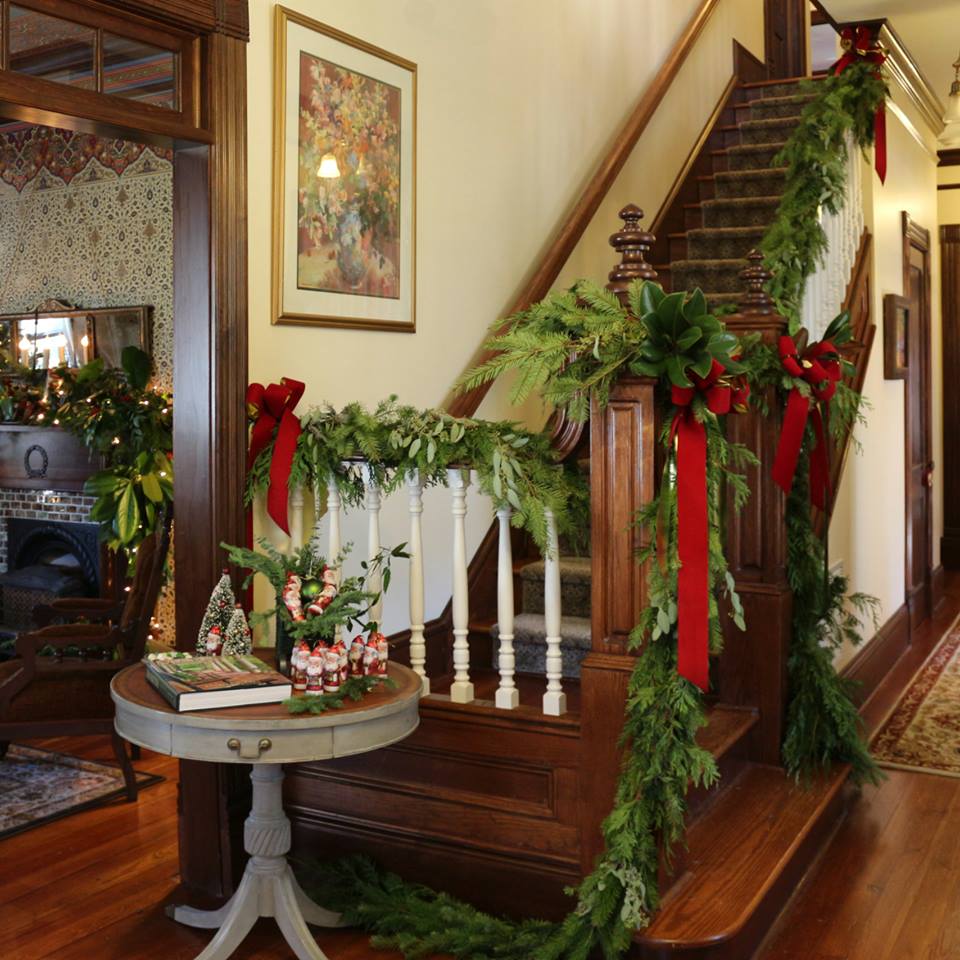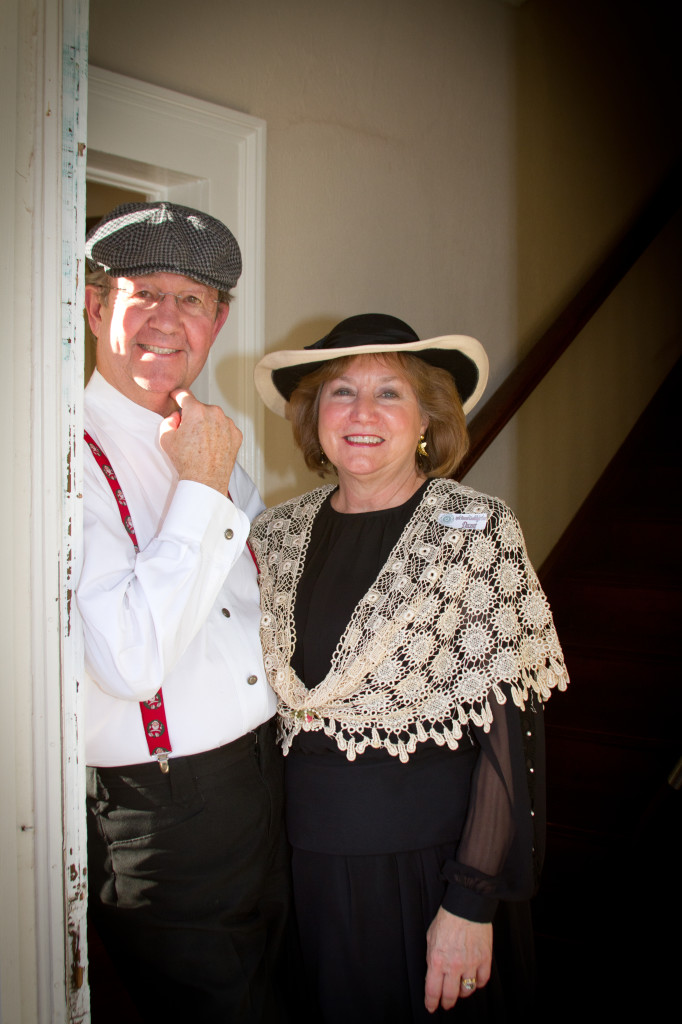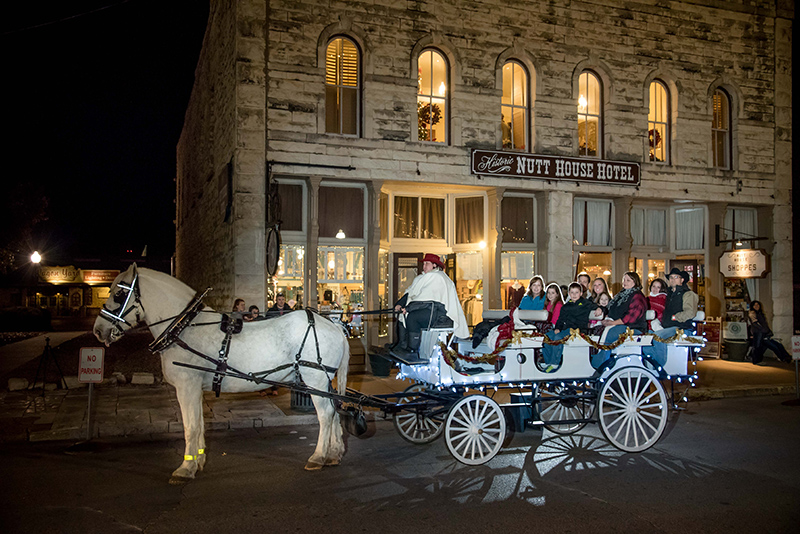 The Blue Heron B&B – The Lancaster House
511 S Baker Street
OZ – 2Lofts Good Witch/Bad Witch
114 N Houston street
The N on the Square – The Rylee Building
122 N Crockett Street
Baker-Carmichael House
226 E Pearl Street
Daniel's Lakehouse
104 Waterford Ct
Walton House
408 Shady Cove Ct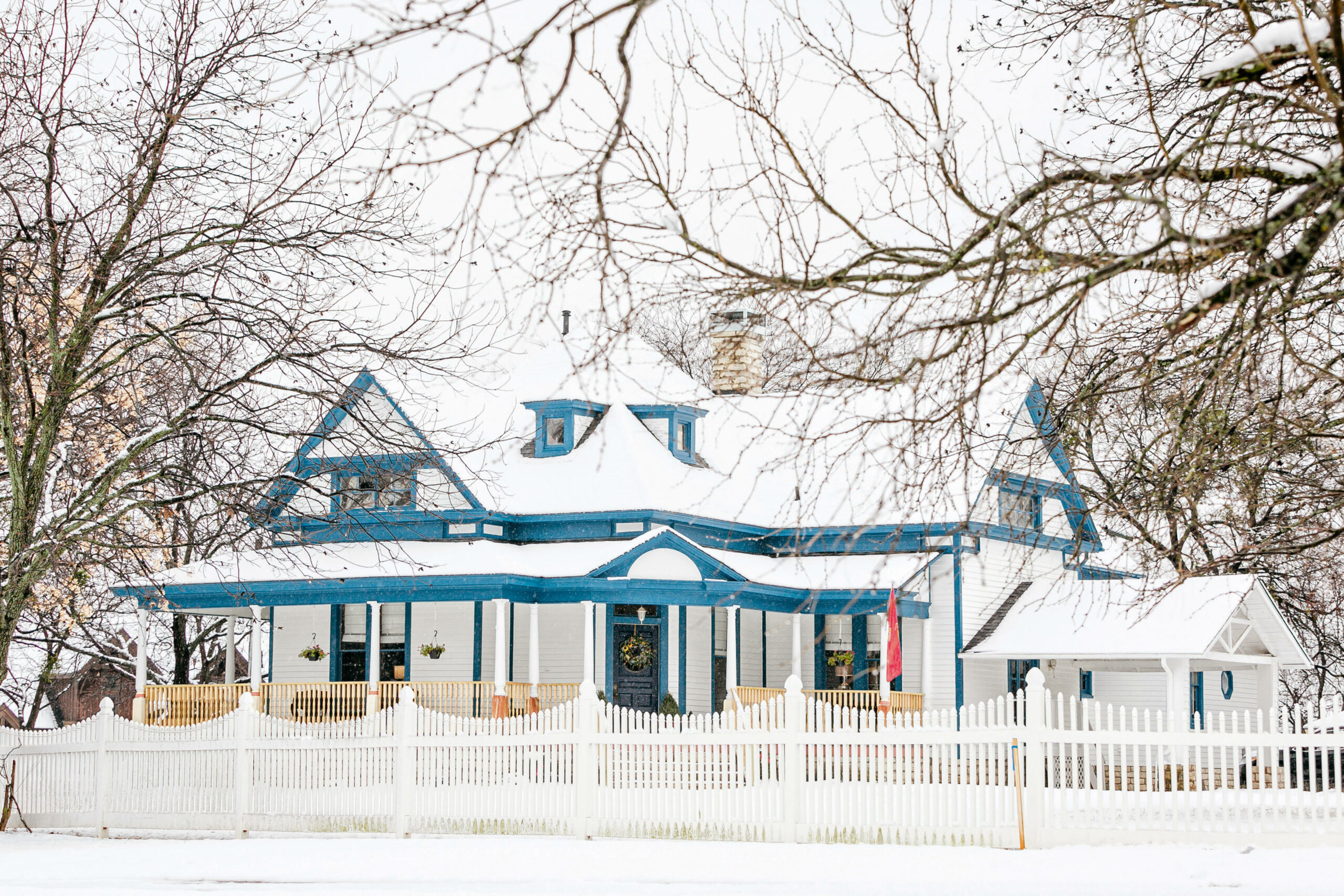 In 1890 Samuel B. Lancaster and Nannie Millikan Lancaster purchased the tract of land where the Blue Heron Bed and Breakfast now sits. It was purchased from Nannie's brother, Robert Milliken. The Milliken's family moved to Granbury from Kentucky where her father had three mail routes. Samuel Lancaster was postmaster in Granbury in 1894. They lived in the home until December 12, 1899, when Martha Wright (the second wife of the sheriff of Granbury, Jack Wright) purchased it for $990.
There were six owners of the house after Martha Wright, and it was also leased to various occupants through the years, due to estate settlements, owners living in other states, etc.
In 1998 Bill and Betty Moss bought the house, added bathrooms upstairs and the gazebo in back and converted the house to a bed and breakfast. The current, and 10th, caretakers of the house. David and Melissa Reitz, bought it in September 2021 and are excited to add it to the Candlelight tour this year. They actually met at a bed and breakfast and married after a brief whirlwind courtship so they understand the romance of a stay at a bed and breakfast.
OZ – 2 Lofts
Good Witch/Bad Witch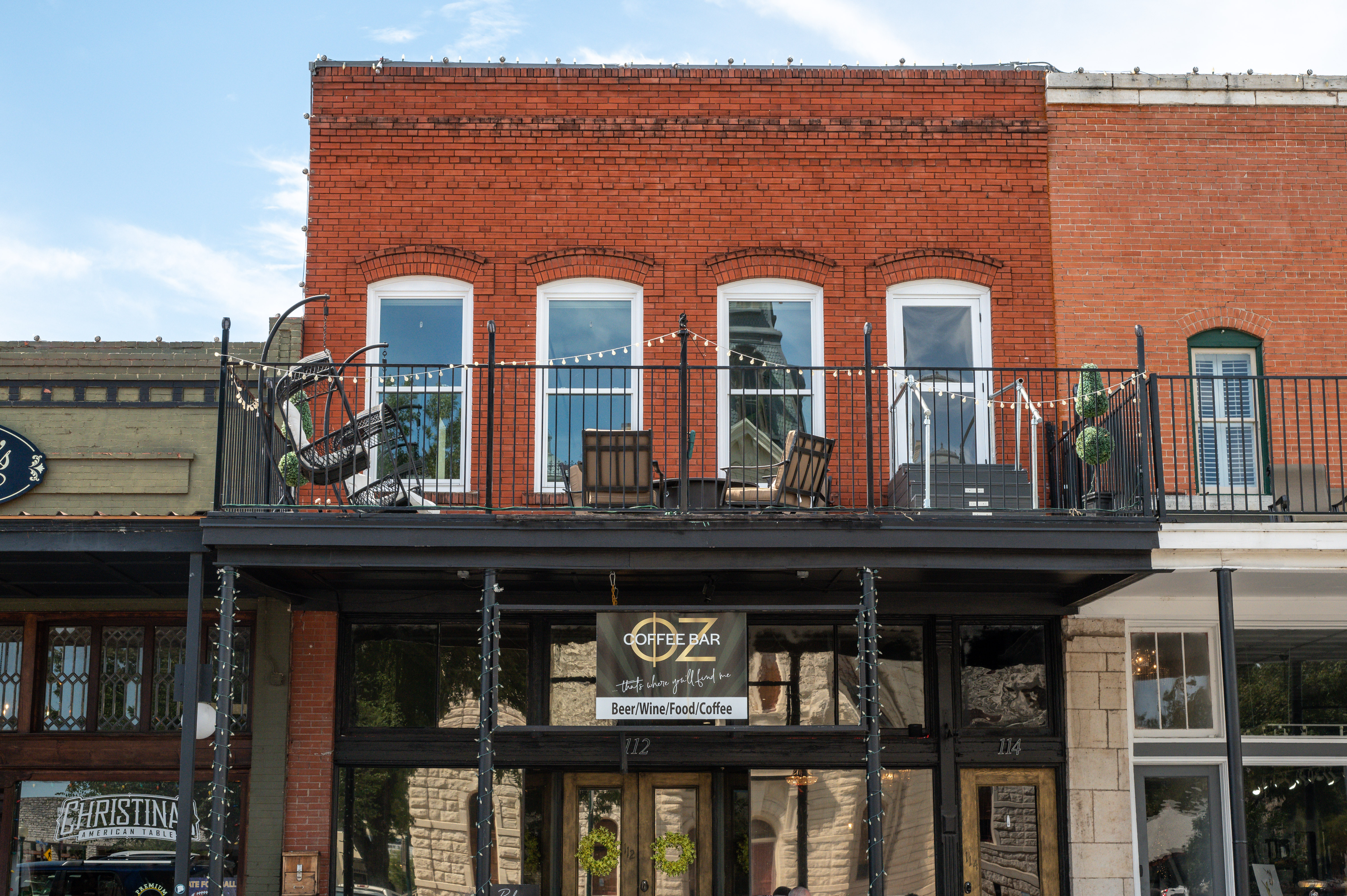 Kevin and Eliza Knapp wish to Welcome You to Oz Landing. Originally built in 1890, this unique property now hosts a coffee bar as well as a 2300 square foot home on the third floor. Oz Landing can be used for special events as well as weekend retreats. True to its name, Oz Landing will be filled with Christmas Decor straight out of the Emerald City. A modern-day twist with a splash of art deco will tell the story just a little bit differently. Santa and Mrs. Claus are most certainly not in Kansas anymore. As you enter the hospitality room, imagine the Wizard himself hosting a grand Christmas party for the citizens of Oz. Wander down the hall to the guest suites of the Wicked Witch and the Good Witch. Both are alive and well in the year 2021 and are conjuring up a magical Christmas. You can decide if you are a "Good Witch" or a "Bad Witch!" Either way, it's Christmas time in the Land of Oz.
The N on the Square
– The Rylee Building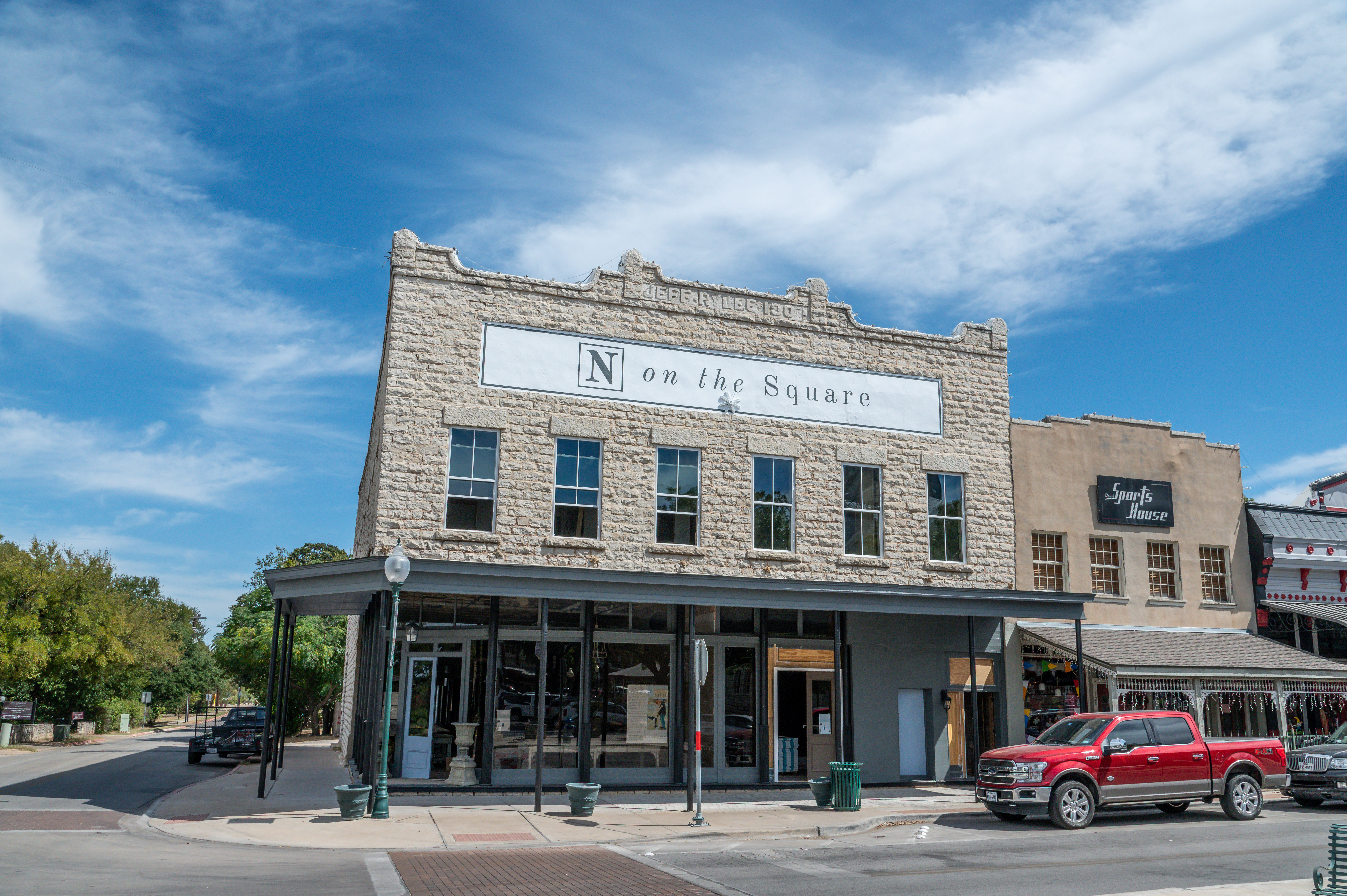 The Rylee Building is a prominent limestone building that anchors the Northeast Corner of the Historic Granbury Square.  After years of being a livery site, Jeff Rylee purchased the lot in 1898.  Then in 1907, he completed the construction on the building that is still standing today.  Upon completion, Rylee leased the building to the Gordon-Oxford Furniture Company and Undertakers.  
In 1916, Rylee, who was in poor health, sold the building to John Conway, who was a dedicated Catholic and a bachelor farmer.  When Conway passed, the building was willed to the Catholic Diocese of Dallas.  After being tied up in court from the estate, the building was purchased by O.P. Leonard – one of the Leonard brothers from Fort Worth, Texas, in 1938.  The papers rumored he was purchasing the property to begin a utility company in Granbury.  
However, in May of 1939, the building was sold to the Granbury Masons Lodge No. 392.  The upstairs portion of the building was used as their dedicated meeting space.  To cover the cost of the building, they rented out the bottom portion to various businesses over the years.  In 1943, the Granbury Dress Manufacturing Company opened its factory in the downstairs portion.  The dress factory was managed by Mr. & Mrs. James Diamond for many decades.  As the peanut industry was dying in the county, they would train any woman that was willing to learn to become a seamstress.  Patterns were cut in Dallas and brought to Granbury where they would complete over 80 garments a week.  As manufacturing grew quickly, they constructed a building adjacent to the factory in 1948.  The dress factory ultimately closed in 1980.
During the tenure from 1980 until 2001, the building housed many operations including The Lodge of Granbury sales office and the Granbury Convention and Visitors Bureau.  In 2001, The Granbury Masonic Lodge sold the building to Bill & Shirley Hooks.  The Hooks turned the limestone giant into the home of Century 21 Shirley Hooks where they ran a very successful real estate agency.  In February of 2021, Mark & Paula McDonald purchased the building and have been renovating the giant to become N on the Square – a quaint boutique and hotel continuing to anchor the Northeast corner of the Square.  
One unique detail that has lived on since the original construction is an iron threshold that bears Rylee's name and construction date that has welcomed many guests over its 115 year old history.  All one has to do is look down upon entering the building to see a testament to a cornerstone of our community that has stood the test of time.
The grand Queen Anne style house was built in 1905 for Jess Baker, one of Granbury's prominent early businessmen. Baker spent $18,000 to have his elegant house built of oak and cypress. The head carpenter who built this home made $1.50 per day and his helper was paid $1 per day.
Jess Baker began his career as a Granbury merchant in 1872 as a tinner, producing tin cups and repairing leaky coffee pots. In his Hood County History, J.T. Ewell wrote in 1895 that Jess Baker "steadily by dint of perseverance and close attention to his business worked up to be one of the leading financiers and business men of the county."
Baker owned and operated a hardware store on the square with his brother, D.O. Baker and their partner, Jeff Rylee. He also owned a wagon and implements shop in Granbury with Sam Smith, an early area pioneer.
Baker was one of the original directors of the First National Bank of Granbury, as well as the bank's vice-president. He was also vice-president of both the Granbury Milling Company and the Granbury Quarry Company, which produced the limestone used to build the courthouse and other historic buildings on the Granbury town square.
The Baker-Carmichael House was one of the first four homes in Granbury to have electricity and one of the first houses in the city to feature indoor plumbing.
The Carmichael family purchased Baker's home in 1923 and Dr. Archibald Carmichael's wife and children continued to live in the house for many years.
Notice the Baker – Carmichael House's turret and stained glass, both Queen Anne-Victorian features. The large wrap-around porch is Neo-Classical in style. The interior of the home features ornate milled woodwork, original mahogany and oak mantle pieces, tongue-and-groove cypress floors and wooden sliding pocket doors. 
Current owners, Claudia and David Southern, continue to preserve the history and charm of the Baker -Carmichael House.
Daniel's Lakehouse Retreat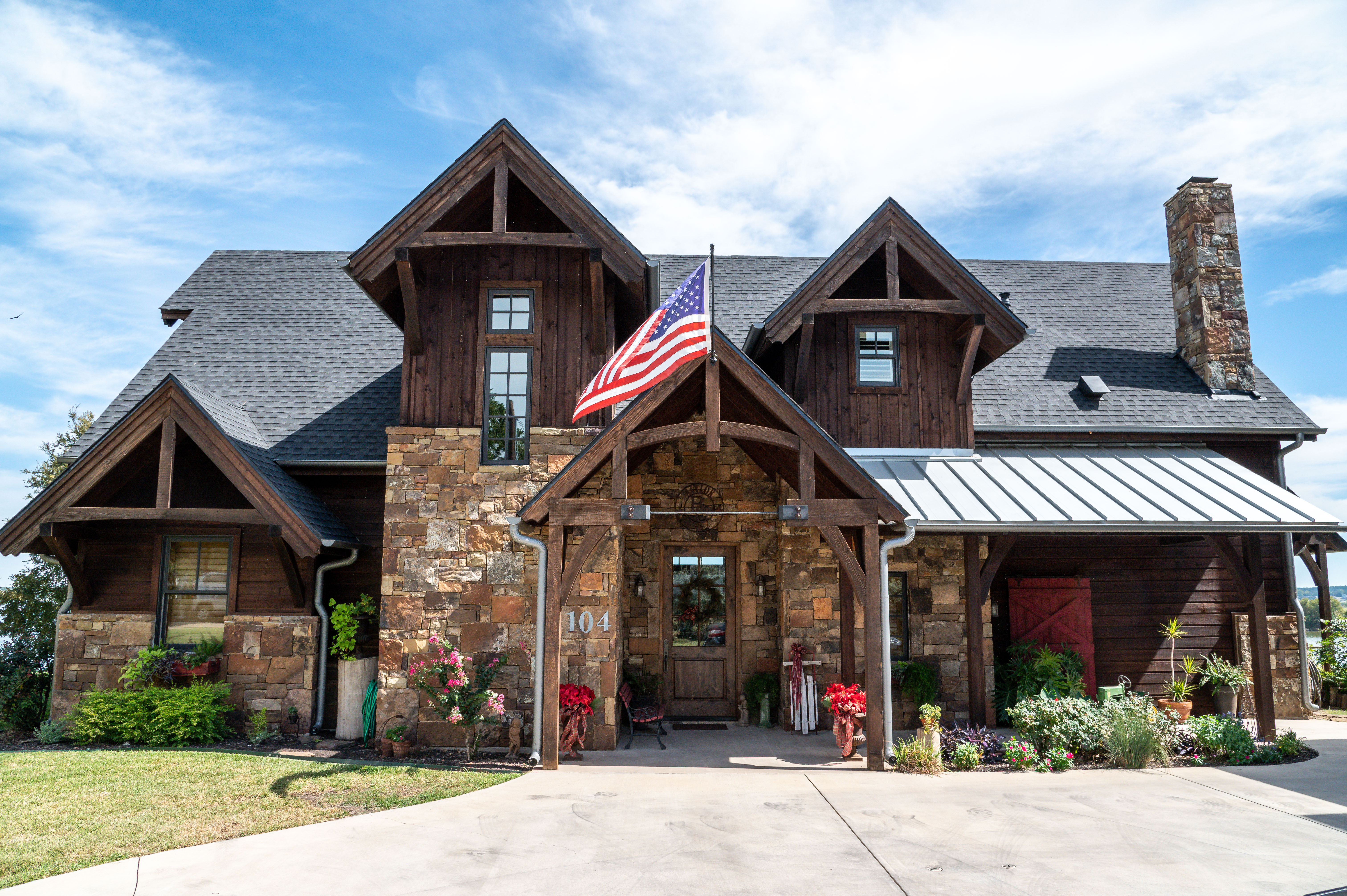 When LeAnn and Alan Daniel first saw this lakeside property only a few blocks from the Square, it was love at first sight!  But they weren't quite ready to make the move to Granbury.  A few years later, when they were ready, they drove by and the for sale sign was gone.   Turned out it was still for sale and they bought it that day!
 Built in  2015, it was designed by an architect at Texas Timber Frames in Bourne, TX and the contractor was Steve Heitz, of Height's Construction.  The home is designed to have a lodge-style architecture using Montana Field Stone, rough cedar, board and batten, and cedar shakes, and for added interest on the exterior, there are metal standing seam sheds over the windows.  On both the exterior and interior, there are massive custom-beams designed by Michael Carey of MC4 Construction (as well as the multi-level docs).   The home boasts huge windows, high ceilings, a massive stone fireplace, a culinary kitchen, complete with a counter-top fireplace, a unique rough-cut flagstone staircase, with a cat-walk upstairs, open to the living room and entry hall.  The home displays an eclectic mix of old and new furniture with large comfortable seating and family heirlooms.  Every room in the house reflects the perfect lake-view and is located lake front on the most beautiful open-water area on Lake Granbury (between the 2 bridges).   There is a lovely porch with a fireplace and multi-level decks for enjoying the lake view and relaxing.  Over the detached garage is a darling guest suite, which is a fully stocked apartment with a small kitchen, living room, and bedroom for extra guests and is also available for rental on Airbnb and VRBO.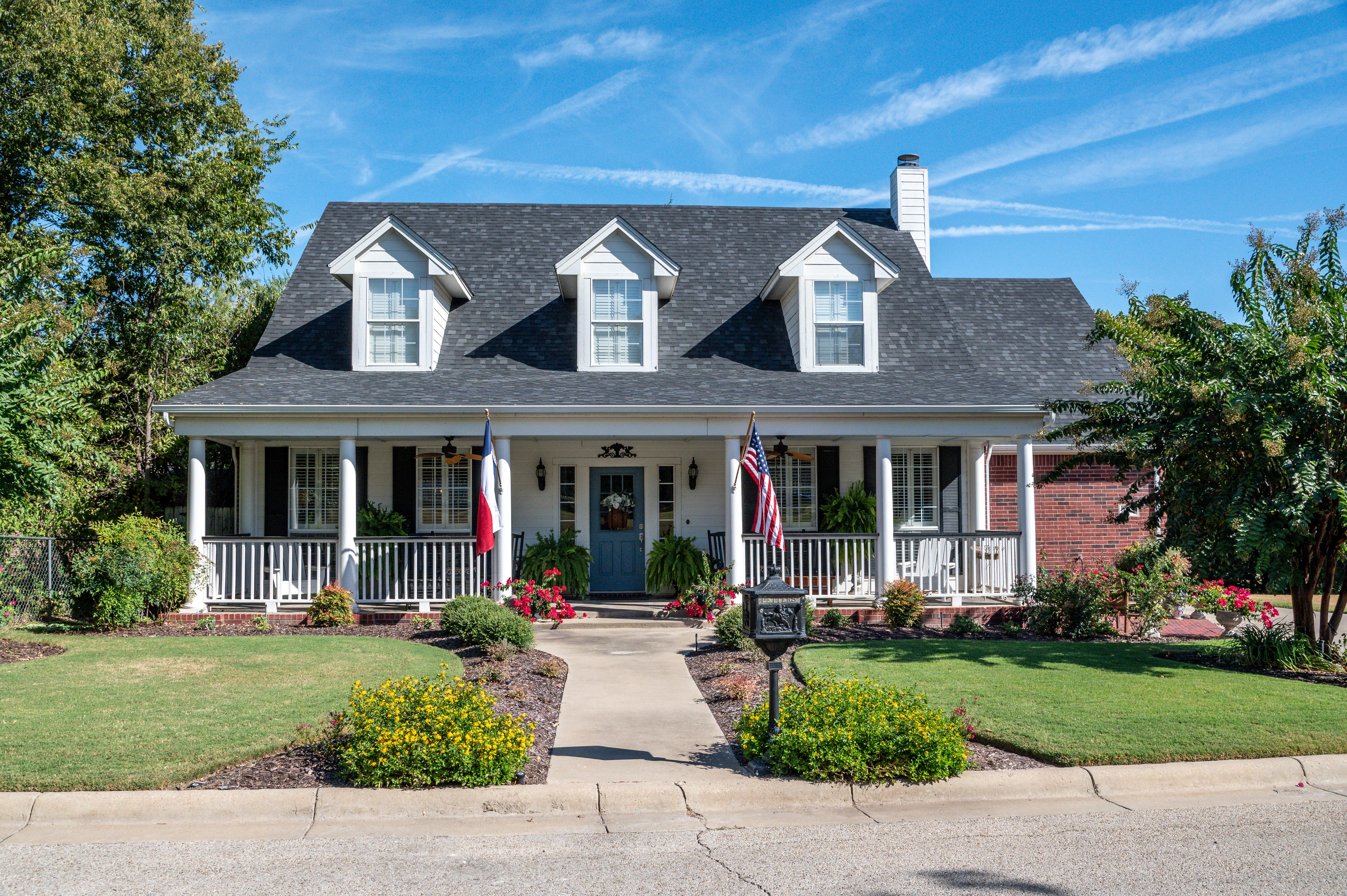 Living in downtown Granbury, as close to the historic square as possible, had been a dream of Maurice and Carol Walton since they moved to Granbury in 1978. They spent many years "cruising" town looking for a place to build a new home.  In 2002, the property at 408 Shady Cove Court, with the big beautiful oak tree, became available and they set about building the house they had been thinking about for a long time.  Their architect, using two Southern Living house plans, that particularly appealed to the Waltons, designed a house to fit the lot.
Inside and out, this classical house teams with ideas that reflect the historic charm of traditional southern architecture.  Influenced by raised cottages throughout the South, the two-story red brick house features a full-width front porch with six Tuscan columns, dormer windows upstairs and a screened back porch.  
Inside the home, you will find a traditional feel with oak wood floors, wood burning fireplace, board and batten walls, wallpaper and quartz countertops.  All of these features highlighted by a mixture of antiques, family heirlooms and treasures collected throughout the years.  
The home was originally designed to accommodate the Walton's four boys.  Today, the home serves as a gathering place for their four married sons, their wives and their 12 grandchildren.
Tour Map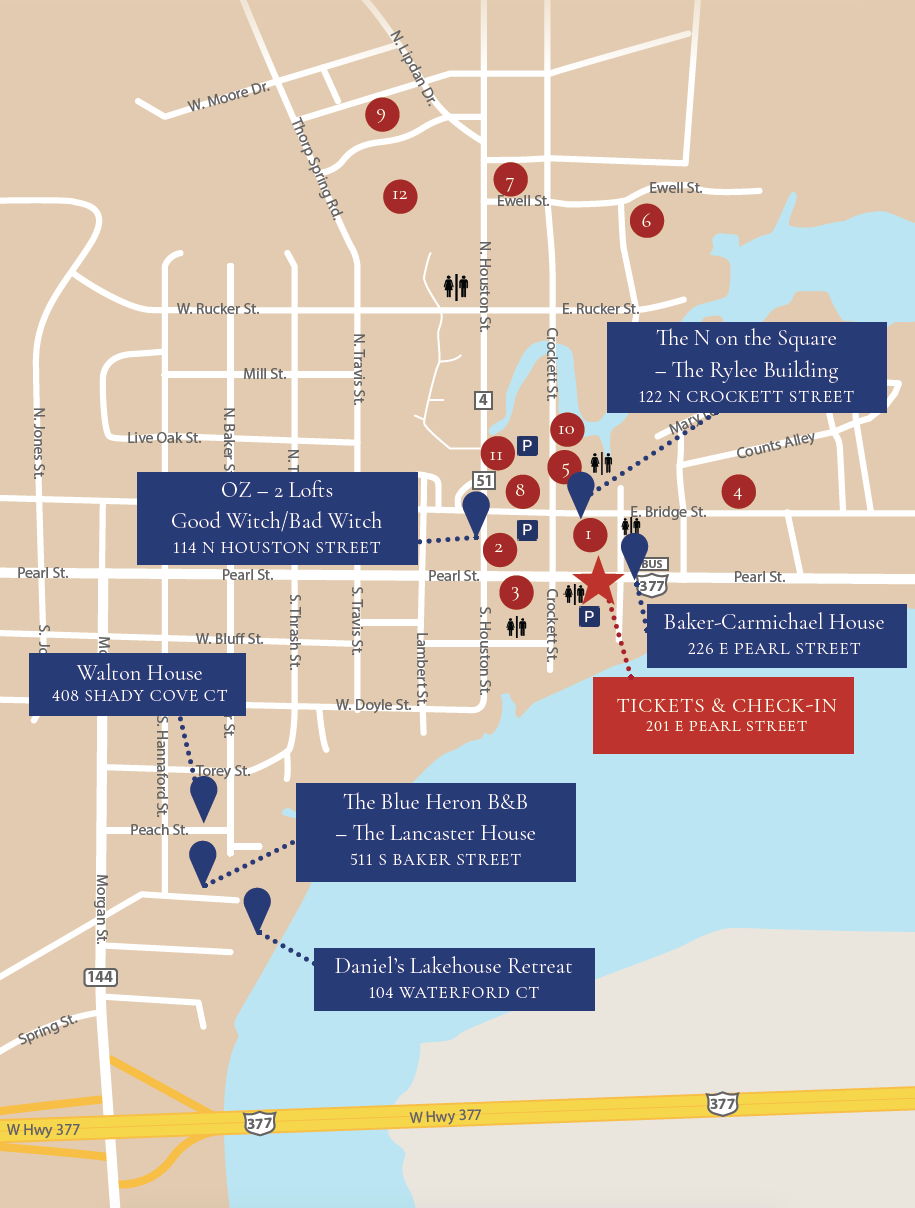 Frequently Asked Questions
Where is Granbury – A Candlelight Tour?
Many of the sites for Granbury – A Candlelight Tour are centered around the Granbury Square.  This is a self-guided tour to enjoy at your leisure.  While many of the homes and sites are located just off the Granbury Square, this tour does require a good amount of walking. A map of the homes and sites included on the 2019 tour are published on the website and in print before the event. Click here for the map.
——
Where is Will Call?
Granbury Square Plaza Pavilion
201 E Pearl St., Granbury, TX 76048
——
How do I stay informed on event changes or details?
Please "Like" us on Facebook and you will be updated on all information regarding the Candlelight Tour. Also, we will ensure that the website is updated with the most current information.
——
When do tickets go on sale?
Ticket reservation sales are now open.
——
Where is the closest ATM?
First National Bank of Granbury
101 E. Bridge St.
Granbury, TX 76048
——
What are the options for parking?
There are spaces available in the Granbury Square around the courthouse.
In addition…
Granbury City Hall  116 W Bridge St, Granbury, TX 76048
E. Pearl St. Parking– Just east of the square there is parking available on your right on E. Pearl St.
Remote Parking– This parking lot has 82 spaces available.  It is free to the public.  You will find it adjacent to Shanley Park. It is located on Rucker St., between Houston St. and Crockett St.
Overflow Parking – available across the street from the Granbury Convention Center adjacent to Hewlett Park on E. Pearl St.
——
Will there transportation between the homes?
You can drive your own vehicle to the homes, or there is a complimentary trolley that will pick up and drop off to all 8 homes.
——
Do I need tickets for the concerts at the Presbyterian Church?
No, all music concerts at Presbyterian church and Landon Center are free and open to public. 
Do I need tickets to tour the public buildings?
No, the 12 docent hosted public buildings free and open to the public. See a full list below:
1. Langdon Center, Concert Hall (Nativity display)
300 E. Bridge St.
This one room clapboard-style church built in 1889 was originally the First Christian Church of Granbury. During events hours, be sure to see the nativity display, Away in a Manager. Includes 1000+ nativity scenes from 87 countries.
2. Historic Hood County Courthouse
133 E. Pearl St.
A three-story limestone structure constructed in 1890-1891. The Seth Thomas clock was installed upon completion in 1891. Courthouse will be open for tours Saturday only from 12:00 p.m. – 5:00 p.m.
3. Historic Granbury Opera House
116 E. Pearl St.
Built in 1886, this Italianate theatre has evolved from a small town entertainment center to a beautifully renovated theatre venue. It completes the historic town square with first-rate shows, concerts and civic events. The lobby will be available to be seen from 10:00 a.m. to 12:30 p.m.. Purchase your tickets to see A Christmas Carol at the box office within the lobby.
4. Jefferson Newton Nutt Doll House
421 E. Bridge St.
Built in 1885 and operated thru 1978; for 93 years served as the only jail of Hood County. The original cells are still in place, and the downstairs is filed with local artifacts and historical documents.
5. Historic Old Jail Museum
206 N. Crockett St.
Built in 1885 and operated thru 1978; for 93 years served as the only jail of Hood County. The original cells are still in place, and downstairs is filled with local artifacts and historical documents.
6. Historic Granbury Light Plant
E. Ewell & N. Brazos St.
Built in 1903 and generated electricity for the city of Granbury from 1904-1955.
7. Historic Granbury Railroad Depot
109 E. Ewell St
Built in 1914, this structure is representative of early 20th century rural Texas train stations. Telegrapher Jim Sargent from Fort Worth will be demonstrating how messages were sent to other train stations.
309 W. Bridge St.
A modified Gothic-style structure built in 1896 adorned with beautiful stained glass windows and the original church bell that hangs in the steeple-topped tower.
9. Yeats-Duke Cabin
214 N. Crockett St Built circa 1858 built by Austin Yeats for his family. The original log cabin (oldest preserved building in Granbury) is enclosed within the exterior structure. They feature artifacts from the 1800's and history on textiles from cotton to weaving. Also, they educate about the World War II sewing room that was here in Granbury.
10. Laroe Picnic Green
This little cottage, adjacent to Shanley Park, was recently remodeled by the Lake Granbury Area Beautification Council. The property is decorated each Christmas and is a popular spot to take family pictures.
11. Memorial Lane
561 N Travis St.
Memorial Lane is the location for 3 unique sites that join together to Remember and Honor all Heroes that have served as Firefighters, in the Military or in any Law Enforcement Agency. Past, Present, and Future are all Honored here!
*All ticket sales are final.
**Granbury – A Candlelight Tour is rain or shine.
Please plan to pick up your ticket and program the day of the event. Will-Call opens 1 hour before event.
201 E. Pearl Street
Granbury, TX 76048